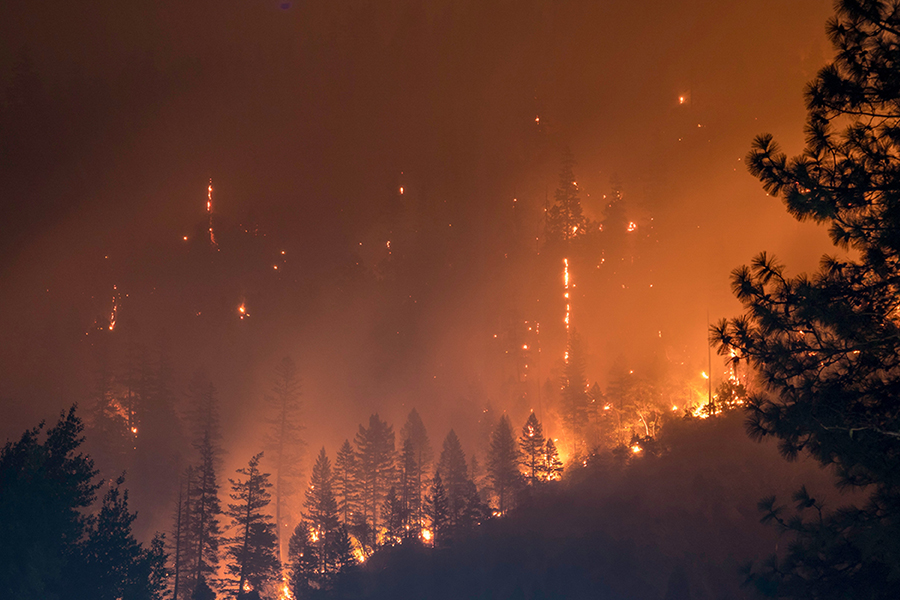 April 30, 2020
Tracking Wildfires
A research team from Carnegie Mellon University has received the Best Paper Award at the 19th ACM/IEEE Conference on Information Processing in Sensor Networks (IPSN) in recognition of their work "Quick (and Dirty) Aggregate Queries on LP-WANs" (QuAiL).
The paper was authored by Akshay Gadre, a Ph.D. student in electrical and computer engineering, summer visiting student Fan Yi, and Professors Anthony Rowe, Bob Iannucci, and Swarun Kumar. 
QuAiL shows how to enable low-latency aggregate queries on thousands of LP-WAN devices, enabling them to rapidly track wildfires. The approach builds upon a simple wireless communication primitive -- how wireless powers add up in the air. They leverage this primitive to retrieve statistical, inference and spatial aggregates from thousands of LP-WAN clients. QuAiL is compatible with both popular LP-WAN technologies LoRaWAN and NB-IoT and demonstrates 4× faster information retrieval with 2.36× less error over sparse sampling solutions for network-scale inference.
"Prior to our work, these low-power clients lacked the ability to work together and communicate information at low-latency to the base station," said Gadre. "With QuAiL, they can assist in rapidly tracking wildfires, flooding, and other disaster scenarios."
Swarun Kumar, Gadre's advisor, recently received the NSF CAREER Award for his work on advancing Low-Power WANs.
"This award is a recognition of the WiTech Lab's leadership in the Low-Power Wide-Area Networking space and the result of fruitful and long-standing collaboration with Professors Anthony Rowe and Bob Iannucci," said Kumar.
Held virtually this year, IPSN is a leading annual forum on research in networked sensing and control, broadly defined. IPSN brings together researchers from academia, industry, and government to present and discuss recent advances in both theoretical and experimental research. Its scope includes signal and image processing, information and coding theory, databases and information management, distributed algorithms, networks and protocols, wireless communications, collaborative objects and the Internet of Things, machine learning, mobile and social sensing, and embedded systems design.
The team also received the Best Paper Award at IPSN in 2018.