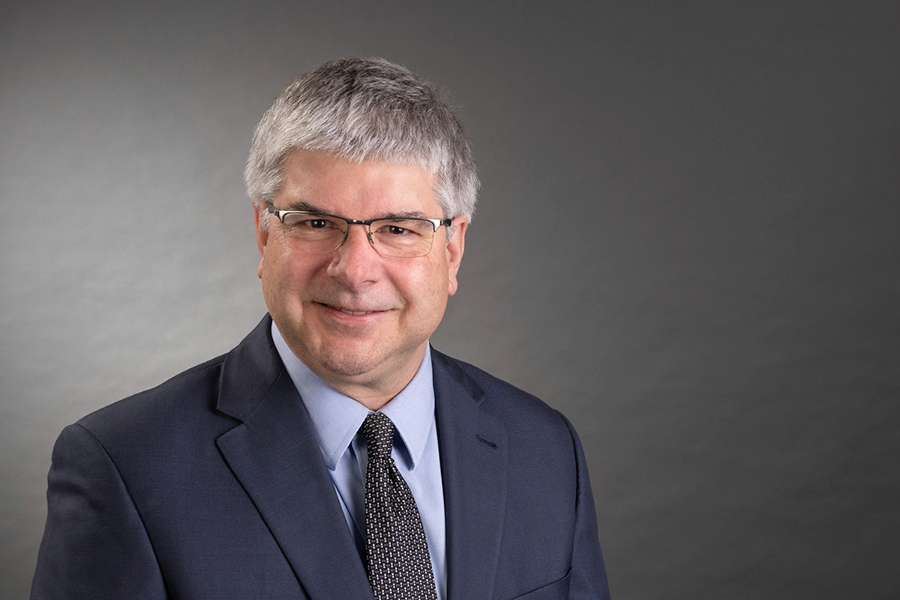 October 01, 2019
William Sanders appointed dean
William H. Sanders, the Herman M. Dieckamp Endowed Chair in Engineering at the University of Illinois at Urbana-Champaign and the interim director of the Discovery Partners Institute (DPI) in the University of Illinois System, has been appointed as the next dean of the College of Engineering at Carnegie Mellon University, effective January 1, 2020.
Sanders will also hold an appointment in Carnegie Mellon's Department of Electrical and Computer Engineering in the College of Engineering, as well as a courtesy appointment in the Computer Science Department in the School of Computer Science.
Sanders has spent the past 25 years of his career as a tenured professor at Illinois in the Department of Electrical and Computer Engineering and Department of Computer Science. His research interests include secure and dependable computing and security, as well as resiliency metrics and evaluation, with a focus on critical infrastructures. He has published more than 270 technical papers in those areas. Sanders has also directed work at the forefront of national efforts to make the U.S. power grid smart and resilient.
Beyond his significant scholarly record, he was the founding director of the University of Illinois' Information Trust Institute in 2004, growing its faculty to more than 100 and attracting $80 million in external research funding by 2011. Sanders then served as director of the Coordinated Science Laboratory from 2010-2014 and was head of the university's Department of Electrical and Computer Engineering from 2014-2018. He also co-founded the Advanced Digital Sciences Center in Singapore in 2009, which is Illinois' first international research facility.
"Bill is a proven leader in engineering research and academia who builds strategic public-private partnerships. He's also a well-respected collaborator in higher education," said Carnegie Mellon Provost James H. Garrett, Jr. "I am fully confident that Bill will effectively shape the vision of our College of Engineering to ensure that its unparalleled advances in academic and research areas will continue to rise to the challenges of our fast-changing world."
As interim director of DPI for the past year, Sanders led the joint education, research, and innovation institute in its efforts to drive technology-based economic growth. Backed by a $500 million appropriation from the state and more than $400 million in private funding, DPI spans three universities and includes eight other academic partners.
"CMU's College of Engineering has a unique culture that is interdisciplinary to the core and breaks traditional disciplinary boundaries to yield impactful, world-changing results," said Sanders. "I am humbled and honored to serve as the next dean of engineering and look forward to working collaboratively across the college and university to create major research and education initiatives that will raise engineering's impact and stature to new heights worldwide."
Sanders earned his bachelor's degree in computer engineering; master's degree in computer, information, and control engineering; and doctoral degree in computer science and engineering, all from the University of Michigan. He is an elected fellow of the Institute of Electrical and Electronics Engineers (IEEE), the Association for Computing Machinery; and the American Association for the Advancement of Science.
His awards include the 2016 IEEE Technical Field Award, Innovation in Societal Infrastructure, for "assessment-driven design of trustworthy cyber infrastructures for societal-scale systems." Sanders is also an entrepreneur and the co-founder of Network Perception Inc.
According to search committee co-chairs Burcu Akinci and Neil Donahue, Sanders stood out after an extensive international search with a diverse pool of candidates.
"Bill is recognized as a leader in his field, and the committee was drawn to his wealth of experience and his collaborative nature," said Akinci, the Paul Christiano Professor of Civil and Environmental Engineering and associate dean for research in the college. "Throughout his career, he has demonstrated a strong commitment to diversity and has an impressive track record of nurturing inclusivity. Bill also has outstanding technical skills and a proven ability to galvanize faculty, staff, and students in pursuit of solutions to societal challenges."
"The committee experienced directly that Bill is an engaging, visionary leader with a deep appreciation for scholarship across a wide range of disciplines who understands the value of partnerships at all levels," said Donahue, search committee co-chair and Lord University Professor of Chemistry in Chemical Engineering, Chemistry, and Engineering and Public Policy.
Jonathan (Jon) Cagan will remain the interim dean until Sanders arrives. Cagan plans to continue teaching as a member of the college's mechanical engineering faculty. He was named interim dean when Garrett began his tenure as provost in January 2019.
"I would like to thank Professor Cagan for his excellent leadership as interim dean throughout this year," said Garrett. "His work has been vitally important to the ongoing success of the college, and I greatly appreciate his efforts during this time of leadership transition. I also thank the dean search committee and its co-chairs, Neil and Burcu, for ensuring a successful and timely selection throughout the process."