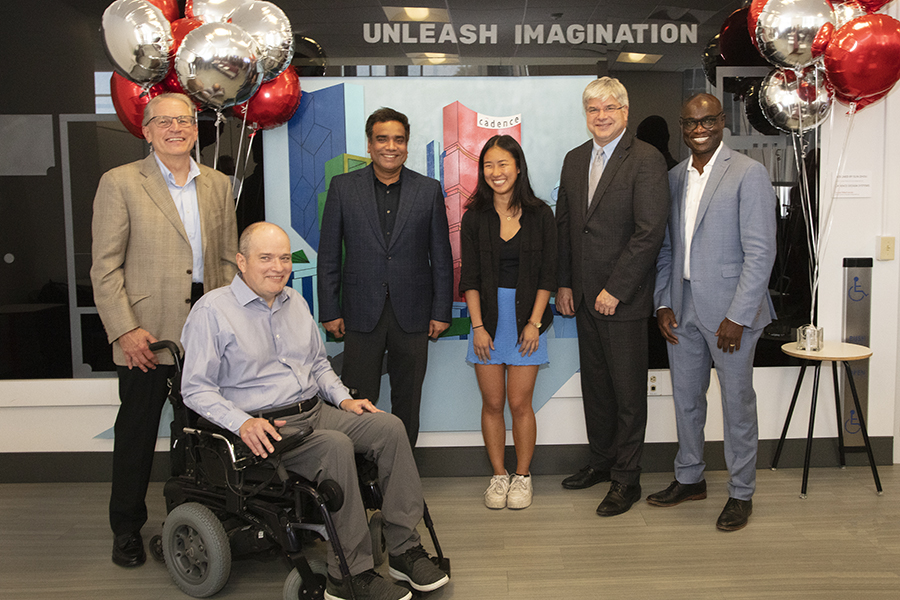 October 12, 2023
Cadence Day
Since 2019, Cadence Design Systems and the Department of Electrical and Computer Engineering have built and maintained a strong partnership rooted in the belief of hands-on education and innovation. To celebrate the continued collaboration, the department hosted the first annual Cadence Day on Monday, October 2, 2023.
A prominent computational software company and a pioneer in electronic systems design, Cadence has been a leader in the electronic design automation industry, applying its Intelligent System Design strategy to provide cutting-edge computational software, hardware, and IP that bring design concepts to life. Cadence is also recognized as an Official Technology Partner of the McLaren Formula 1 Team. Anirudh Devgan, Cadence Design Systems president and chief executive officer and ECE alum, felt inspired to give back to the department where he earned his master's and doctoral degrees in electrical and computer engineering.
Cadence Day included various activities such as lobby tables where Cadence engineers interacted with students, roundtable discussions with Cadence leadership and student organizations, tours of the Hacker Fab, the unveiling of the new Cadence undergraduate student lounge, and an engaging "Hot Ones" style interview with Devgan.
Tim Rosek, a software architect at Cadence, highlighted the importance of the company's expertise in both digital and analog design, especially in the context of machine learning algorithms where a combination of generic and specialized silicon is essential. Cadence's vision to "reimagine the future of technology" and its consistent recognition as one of Fortune's "100 Best Companies to Work For" make it an attractive destination for electrical and computer engineering students seeking real-world applications of their skills.
Throughout Cadence Day, students had the opportunity to engage with Cadence engineers, including Rosek, Prajval Prabhakar, Yuxin Wang, and Aneesh Shasty, to learn about the company's work, its unique culture, as well as potential career prospects. Rosek emphasized that Cadence values input from all employees and fosters innovation, making it an ideal place for motivated individuals.
Prabhakar added that Cadence's involvement in electronics spans across a wide range of products, from airplanes and cellphones to cars and refrigerators, making it a company where electrical and computer engineering students can seamlessly fit in.
To help inspire students on their academic journey, Cadence Day also marked the dedication of the new undergraduate student lounge, funded by Cadence. The lounge also features a mural by CMU Design student Elin Zhou. During the dedication, Larry Pileggi, the Coraluppi Head and Tanoto Professor of Electrical and Computer Engineering, introduced Devgan who fondly reminisced about his time as a master's and Ph.D. student in the early '90s and shared his vision for Cadence's partnership with Carnegie Mellon University.
Cadence Day concluded with a lighthearted "Hot Ones"-style interview featuring Jim Bain, associate department head for academic affairs and professor of electrical and computer engineering, and Devgan. They discussed topics ranging from generative AI to Cadence's pivotal role in semiconductor and systems design, offering insights into Devgan's career journey.
Devgan also shared valuable advice for students, emphasizing the importance of continuous learning, mastering core domains, and maintaining a balance between innovation and expertise. He commended Carnegie Mellon for its approach of focusing on a few core areas while encouraging innovation and initiative.
Cadence Day was a resounding success, further solidifying the partnership with Carnegie Mellon. Devgan expressed his enthusiasm for future collaborations in education and research, highlighting the company's commitment to supporting the university's endeavors.