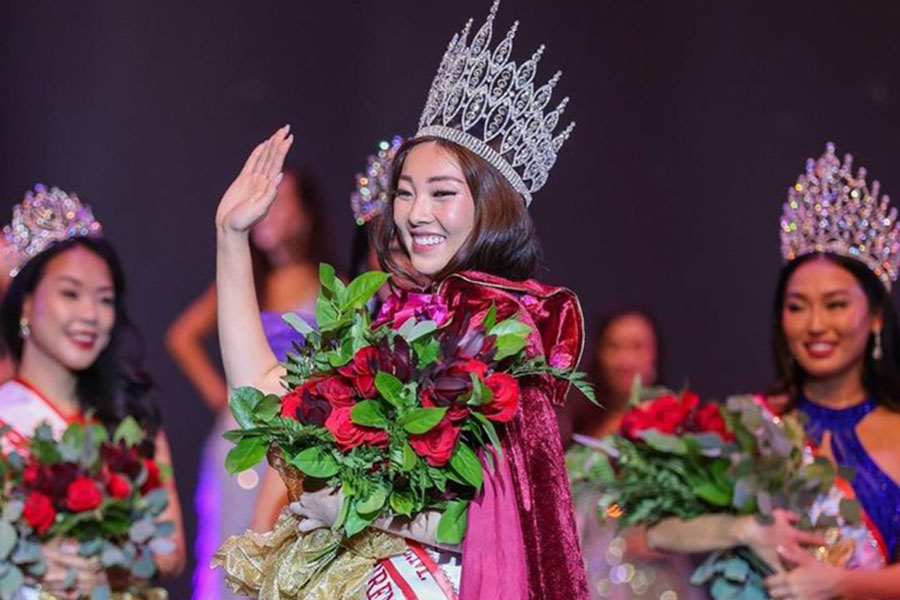 March 29, 2023
Software Engineer, Pageant Queen
Last August, Lisa Yan told her colleagues at Waymo, Google's self-driving car project, that she was taking a week off. Instead of leaving for vacation, she went to a hotel in the San Francisco Bay Area to prepare for the 2022 Miss Asian Global Pageant, where she took home the top title. 
Despite having no previous pageant experience, Yan decided to participate to honor her heritage and the path she's taken as both an engineer and an advocate for mental health and women's empowerment. She represented the Chinese community of San Francisco. Her platform focus earned her the merit titles of Miss Asian STEM and Miss Asian Entrepreneur. 
"I definitely wanted a hobby that was completely unrelated to my career in some sense," Yan says. "People would be like, 'Oh, how would a software engineer be a pageant person?' I think I like the idea that it's so conflicting." 
It was important that Yan's time at CMU be represented in her pageant run. Yan earned a bachelor's in electrical and computer engineering in 2017 and completed her master's, also at CMU, in 2018. As a member of the alpha Kappa Delta Phi sorority, she keeps in touch with other CMU graduates and returns to Pittsburgh every few years for alumni events. One of her gold sponsors for the pageant was CMU Friends. 
After completing her master's, Yan, a Palo Alto native, returned to the Bay Area to work as a software engineer at Google. In addition to gaining hands-on experience at her first job out of college, Yan also became the global advocate for the Asian Googler Network, using her position to candidly discuss workplace burnout among colleagues and to combat the stigma around seeking mental health support in the Asian community. 
"One of the bigger events that we had was 'listening sessions,' where we hosted a Zoom meeting across multiple global time zones and gave an open forum for people to discuss their thoughts," Yan says.
 "A lot of people expressed that it either felt impersonal or awkward to discuss with their teams, but they wanted a place to get together with their community." 
Yan is committed to giving back the support she received as a student at CMU, particularly from the female influences and advisors within the ECE department. Yan remembers one specific course, Operating Systems, that had a reputation for being grueling and required explicit advisor approval for students to enroll. Yan was then a third-year student, and her advisor expressed confidence in Yan's knowhow. She completed the course successfully. 
"That really encouraged me," Yan says. "You wonder, 'Is my advisor going to tell me to drop this class?' But I was really supported, and I felt that she trusted me."  
Yan hadn't told her colleagues about her pageant run beforehand. After edging about twenty other participants for the crown, Yan was celebrated by her Waymo team with a happy hour at the office. In addition to the support she's received from her CMU and Google families, Yan also enjoys how her role as Miss Asian Global has brought her closer to San Francisco. Every leg of her journey was honored and reflected in her pageant run.
"Now that I'm an adult, I think about how work should not be your one and only identity. And when you're older, you build more identities," Yan says. 
 "I am more than just being an engineer. And that's part of the pageant, too–recognizing all the different sides of yourself."