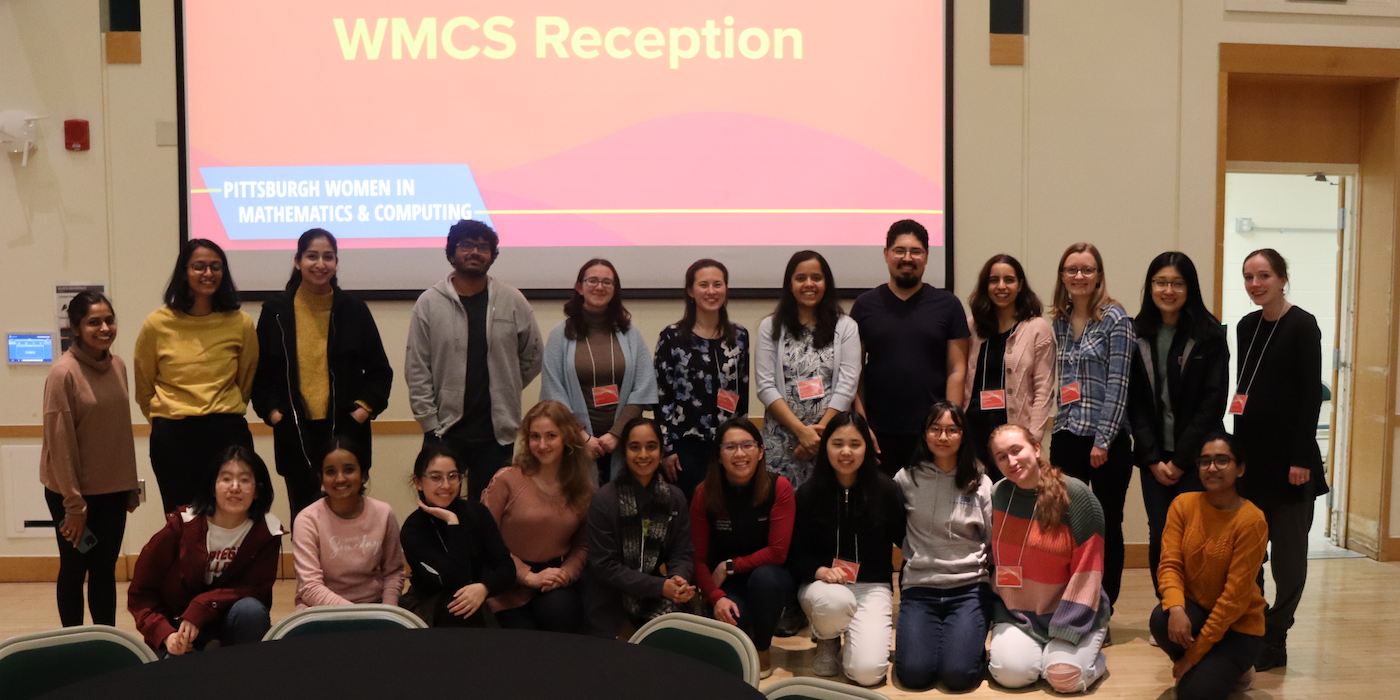 March 02, 2023
ECE PhD Students Host Pittsburgh Women in Math and Computing Symposium
On February 24, the first-ever Pittsburgh Women in Mathematics and Computing Symposium (WMCS) was hosted at Carnegie Mellon University. Organized by Electrical & Computing Engineering (ECE) PhD students, Mansi Sood and Isabel Murdock, the event brought together 54 attendees from CMU, the University of Pittsburgh, and Duquesne University. The speakers and guests included 15 faculty members from a variety of departments including Mathematics, ECE, Computer Science, Statistics, and Robotics.
"We conceptualized WMCS last fall while applying to the IAS Women and Mathematics Ambassadors Program," says Sood. "Our aim was to help undergraduate students in Pittsburgh expand support structures and provide a glimpse into the diversity of research opportunities at the interface of mathematics and computing."
In addition to the IAS grant funding, the ECE Diversity, Inclusion & Outreach Committee provided further support for the symposium, especially Kimmy Nguyen, who was instrumental in providing logistical and organizational support for the event.
The all-day symposium featured panel discussions designed to help students get started with research and learn how to apply to graduate programs, as well as faculty and graduate student presentations on their research. It also contained networking breaks that allowed the student attendees to connect with each other and interact with the faculty speakers in a relaxed setting.   
The event received positive and encouraging feedback from attendees. One attendee remarked, "I got to interact with so many amazing women at CMU and Pitt, who are so passionately working towards their area of research. It was truly empowering to speak with them and learn about their personal experiences - hardships, failures, successes and much more. I would love to attend such events again in the future." 
"Organizing this event was a valuable learning experience for us," said Murdock. "We were excited and thankful for the overwhelming support of so many female faculty members across CMU, Pitt, and Duquesne - almost every professor we invited to participate enthusiastically agreed to attend and share their experiences with our attendees. They all are passionate about mentoring the future generation of students in their respective fields."
"We are grateful to our incredible speakers and volunteers for supporting our vision and investing so much time and energy in making WMCS a success- it wouldn't have been possible without their help!" added Sood. "We thank the CMU ECE Diversity, Equity & Inclusion Committee, Lisa Simonyi, and the IAS Women and Mathematics Program for funding the symposium. We hope WMCS inspires future initiatives to build the community and capacity for providing timely mentorship, networks, and resources to empower more women to pursue math and computing-related studies."