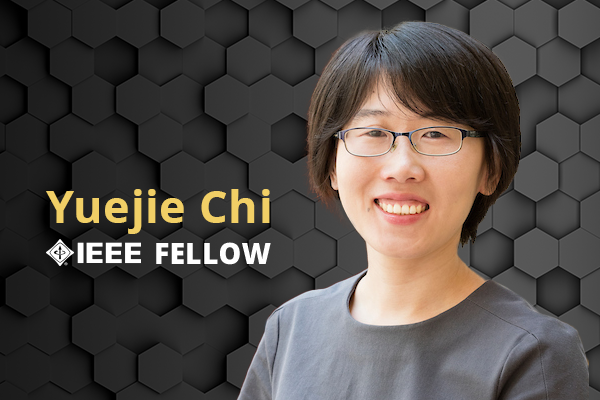 December 06, 2022
Chi Named 2023 IEEE Fellow
Yuejie Chi, professor of electrical and computer engineering at Carnegie Mellon University, has been elevated to fellow status in the Institute of Electrical and Electronics Engineers (IEEE), the world's largest technical professional organization for the advancement of technology.
IEEE Fellow is a distinction reserved for select IEEE members whose extraordinary accomplishments in any of the IEEE fields of interest are deemed fitting of this prestigious grade elevation. The IEEE cited Chi "for contributions to statistical signal processing with low-dimensional structures."
Chi's research interests lie in the theoretical and algorithmic foundations of data science, machine learning, signal processing and inverse problems, with applications in sensing, imaging and societal systems, broadly defined. Motivated by the challenge of extracting useful information and making reliable decisions from large-scale and high-dimensional data, particularly in sample-starved or resource-starved environments, the problems her group studies are often interdisciplinary in nature, lying at the intersection of statistics, learning, optimization, and sensing.
The total number of fellows selected by IEEE in any one year cannot exceed one-tenth of one percent of the total voting IEEE membership. A complete list of the Class of 2023 fellows is available on the IEEE site.