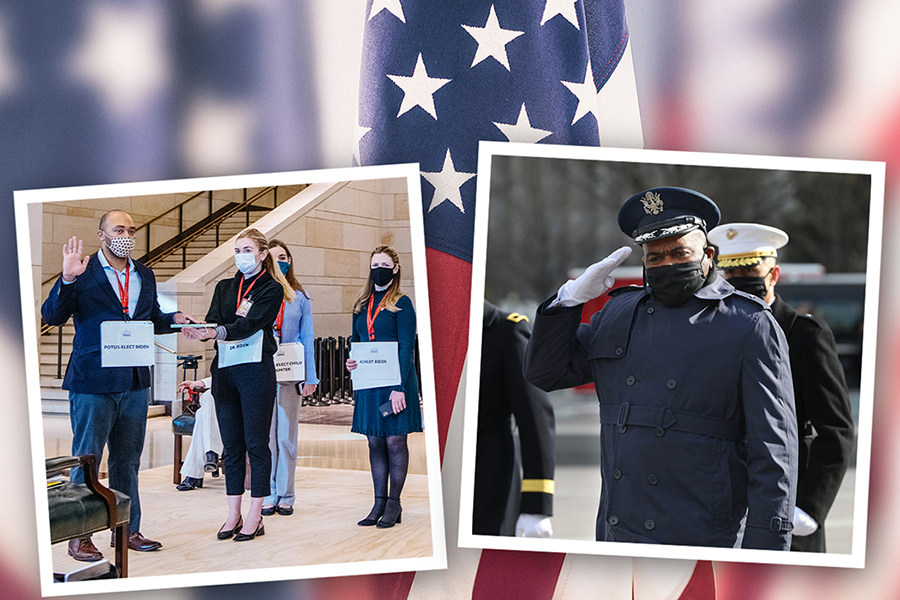 April 07, 2021
Making History Possible
"Don't quit your day job" is common advice often said in jest, but for two Carnegie Mellon alumni — Brigadier General Robert Bowie, better known in CMU circles as just Bowie, and U.S. Senate staffer Vincent "Vince" Brown — the thought would never cross their minds. Both men work on Capitol Hill and were proud to help plan the 59th Presidential Inauguration on January 20, 2021.
Clearly, it was not just another average day at work for Bowie and Vince as they assisted the Joint Congressional Committee on Inaugural Ceremonies, which has been responsible for the planning and execution of these momentous occasions at the U.S. Capitol since 1901.
Pomp and Circumstance
For Bowie, a West Baltimore native and 1989 graduate of CMU's College of Engineering, January 20, 2021, was his fourth time playing a leadership role in a presidential inauguration. This year, as Deputy Commanding General — Inauguration, Bowie was tasked with organizing all the military logistics of the ceremony on that day.
Bowie's title is deputy director, Joint Staff, but his job, as he phrases it, "is leadership." Currently, he is on an active duty, eight-month special assignment, which included ceremonial support for the inauguration. Every itinerary planned that day — from the parade to the swearing-in to the Lincoln Memorial lighting ceremony — required military support. In the 10 days leading up to Inauguration Day, Bowie's team of 800 relied on 2,000 additional people to make the day run efficiently.  
"It went extremely smoothly. There was concern about security, and we were focused," Bowie says. "We were representing democracy to the world, and the eyes were watching. It had to be tight. It was a no-fail mission, and we had to show that, despite those challenges, we have civilian leadership with military support."
As a special senior service representative, Bowie played an operational role — he was the first to salute President Joseph Biden on his first Presidential Pass and Review at the Capitol. This year was also personally special to Bowie because, for the first time, he was able to attend the swearing-in ceremony with his wife, Sue, on the west side of the Capitol.
"I'm proud to serve, and I'm glad I'm American," Bowie says of his experience at the Inauguration Day ceremonies this year.
An Invisible Army
Because of security concerns, 2021's Inauguration Day brought unprecedented challenges. The insurrection at the Capitol mere weeks before led to nearly half of the originally scheduled volunteers dropping out. That meant a huge shift in responsibilities for everyone involved, including a total reassignment of credentials for the remaining volunteers.
Vince Brown, who graduated from CMU's Dietrich College of Humanities and Social Sciences with an international relations and politics degree in 2013, currently works with Senator Amy Klobuchar on campaign finance reform. 
Last fall, while working as counsel on the U.S. Senate Committee on Rules and Administration, Chairwoman Klobuchar, who was the lead Senate Democrat on the congressional planning committee for inaugural ceremonies, asked Vince to help organize volunteers for the inauguration. (As a field organizer with the Democratic Party of Georgia, he had experience leading large groups of volunteers.) For Inauguration Day, he was charged with both coordinating the logistics of more than 500 volunteers with escorting duties and managing the Command Center, a temporary communication hub set up in the middle of the Capitol for Inauguration Day.
He remembers the day as "hectic, yet organized" with some "pretty intense walkie-talkie" usage. At one point, after finalizing all of the escort logistics for 300 people, including former presidents, he says, "I think my brain melted."
Thinking back on the day, Vince remembers feeling both inside and outside of the moment.
"You understand what you're doing. You understand the historic nature of it, to plan an inauguration, to be part of an inauguration during a pandemic ... I was definitely taking all that in," he says. "It's just something that you internalize. Then you're like, 'All right, well, we just gotta get to swearing-in time, so let's just grind this out and do it.'"
Having worked around-the-clock before the big day, Vincent remembers the second half of the day being "kind of a blur."
"Obviously, I was excited after I got done, but I missed some of the post-ceremony celebration at the Lincoln Memorial because, after I got back home, I lay down on the couch and fell straight to sleep."