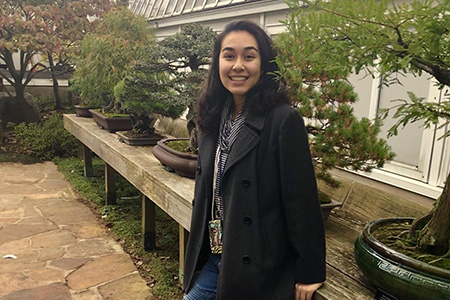 March 31, 2021
Bedoyan Receives Goldwater Scholarship
Esther Bedoyan, a junior majoring in electrical and computer engineering (ECE) and biomedical engineering (BME) with a minor in Chinese studies, has received the prestigious 2021 Barry Goldwater Scholarship to encourage her pursuit of a research career.
The award, given by the Barry Goldwater Scholarship and Excellence in Education Foundation, recognizes second- and third-year college students intending to pursue research careers in mathematics, engineering and the natural sciences, and provides up to $7,500 for tuition, mandatory fees, books, room and board.
"I'm very grateful to receive this scholarship," Bedoyan said. "Ever since pursuing fascinating research projects nestled in the intersection of ECE and BME at both Carnegie Mellon, the Center for the Neural Basis of Cognition, and Case Western Reserve University, I've been inspired to pursue a Ph.D. in device sciences research. My experience at CMU also showed me that I really enjoy learning, whether through classes or hands-on research. I am excited to continue exploring my curiosities and passions through graduate school and beyond. This scholarship award has given me further encouragement and inspiration to pursue my goals and continue my career in research."
Since the fall of 2020, Bedoyan has been conducting research in Dr. Maysam Chamanzar's lab focusing on developing an adaptive frequency domain filtering technique that removes electrical interference from electrophysiology data.
"I've had a lot of fun with this project. I've been able to independently develop this filtering technique and test its performance on real electrophysiology recordings collected from neural organoids and present my findings at multiple conferences and poster presentations," Bedoyan said.
Upon graduation, she plans on completing the Integrated Masters Bachelor Program at CMU, then pursuing a Ph.D.
"I look forward to continuing to expand my understanding of modern micro and nanodevices, especially as they relate to biomedical applications, and directing an independent Ph.D. project focused on my own research interests."