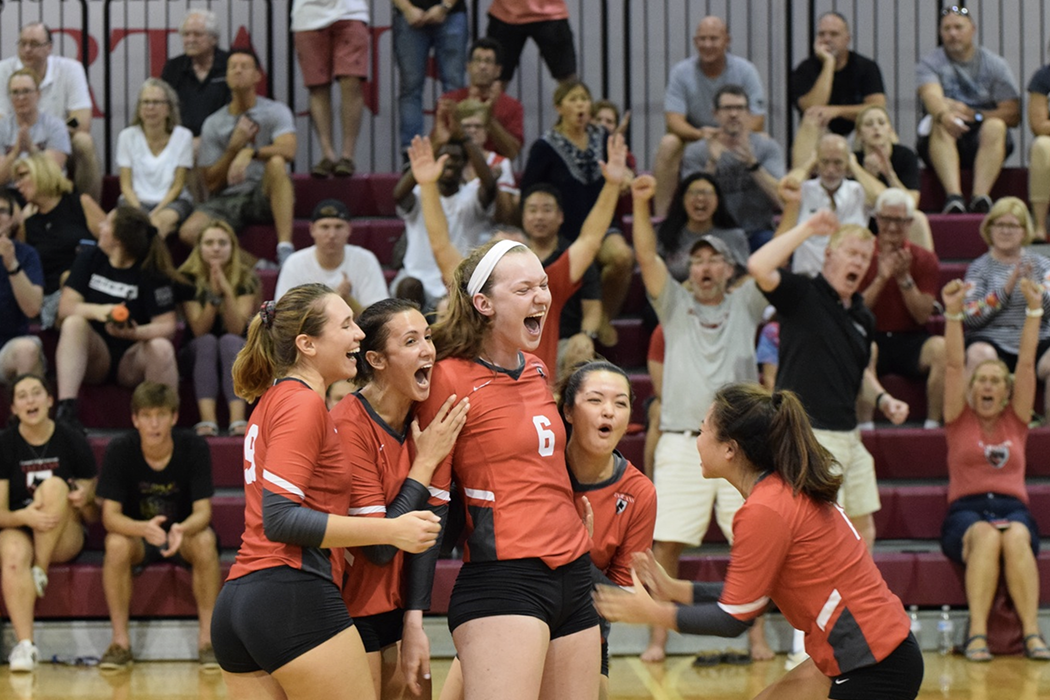 May 18, 2020
Success On and Off the Court
Like many young engineers, second-year ECE major Vivian Beaudoin is drawn to the versatility of technology, especially computers. She loves problem-solving and played with Legos and puzzles growing up. However, Beaudoin isn't just an engineer — she's also a member of CMU's volleyball team.
Beaudoin fell in love with computer science in high school after taking a class at the suggestion of her older brother. She went on to take every class offered and looked for a college to continue her technological education. Around the same time, at the suggestion of a coach, she tried her hand at volleyball, finding an instant match.
"It was immediately the best sport ever, in my opinion," Beaudoin said. "I very quickly kind of focused on it."
As a student, CMU was attractive to Beaudoin because of its renowned engineering program. As a volleyball player, Beaudoin was impressed by CMU's tournament wins. So she reached out to CMU's team and the coaches came to see her play.
"It just fell into place from there," Beaudoin said.
Since coming to CMU, Beaudoin has succeeded on and off the court. Beaudoin earned the top grade in Structure and Design of Digital Systems, a course required of all ECE majors. In the same semester, she was an honorable mention regional All-American and received 2nd team All-UAA honors for her prowess on the court.
Beaudoin said being on the volleyball team is a lot of work, but since she enjoys playing so much, it's worth it. She's already learned a lot from her time on the team, but she said the best lesson she's learned has been about time management.
"[Volleyball] forces you to time manage...because you have a commitment of practice one to two hours every single day, and you're traveling on the weekends," Beaudoin said. "You need to plan and you need to prioritize."
 Other important skills she's learned include teamwork and adaptability.
"Being able to learn very quickly from mistakes is something that's really important," Beaudoin said. "Also...volleyball is a big team sport...but if they're not working together, you're not going to be as successful."
In addition to being on the volleyball team, Beaudoin is involved in the Society of Women Engineers and Women in ECE. She is also a TA for an introductory programming class. In this fast-paced course, students learn to code, some with no prior experience. As a student, Beaudoin said the staff — professors and TAs — were an invaluable asset to success.
"[The class] can be really overwhelming and really stressful," Beaudoin said. "I wanted...to help people in that introductory class."
As for the future, Beaudoin has a difficult choice ahead. She must choose between a concentration in hardware systems — the physical makeup of the computer — and software systems — the code used to make it run. Regardless of her concentration, Beaudoin has one thing in mind: helping people.
"I always find really interesting technologies...that can help people who have disabilities," Beaudoin said. "I think that would be something cool to work with."
In addition to the potential to help people, Beaudoin said the endless possibilities are another aspect of technology she loves.
 "It's really a good tool for a lot of things," Beaudoin said. "We're seeing new technologies that can do so many things that we never imagined."