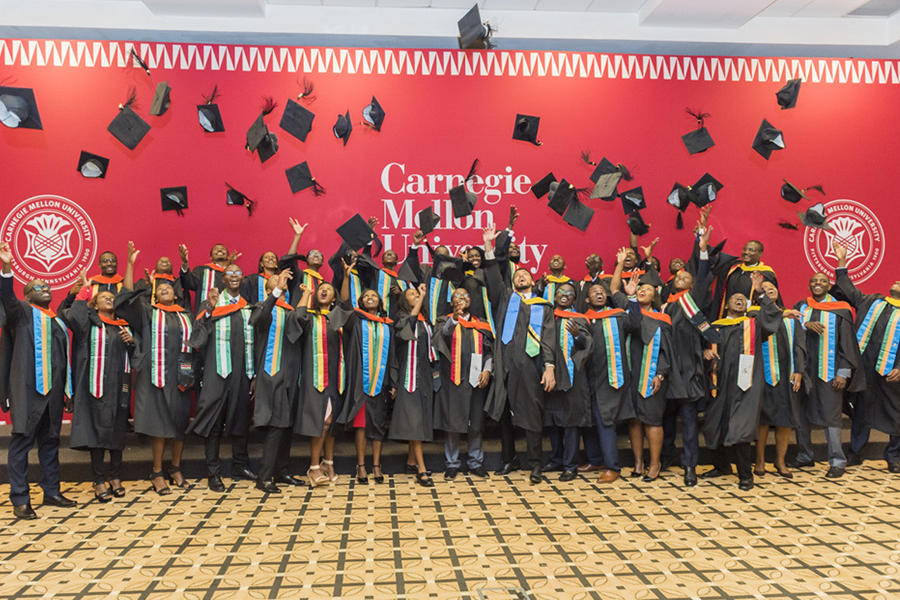 June 03, 2019
Congratulations Carnegie Mellon University Africa Class of 2019
Carnegie Mellon University Africa is proud to announce that 51 students graduated yesterday, June 2, 2019 in Kigali, Rwanda. The Class of 2019 received master's degrees in electrical and computer engineering and information technology. This is our largest class to date in Africa, and it is also our most diverse group, representing seven nationalities.
The keynote speaker was Lacina Koné, the director general of Smart Africa. Honorable Eugene Mutimura, the minister of education for the Government of Rwanda also addressed the class, as did Carnegie Mellon Provost James H. Garrett Jr. The student speaker was Nancy Lubalo.
We are proud of our talented graduates who have worked alongside faculty experts on research that serves the need of the continent, including healthcare access, cyber security, big data, robotics, renewable energy, and agriculture. These young leaders will play a significant role in advancing Africa's information and communications technology infrastructure and strengthening the economy.
Learn more about CMU-Africa's graduation.