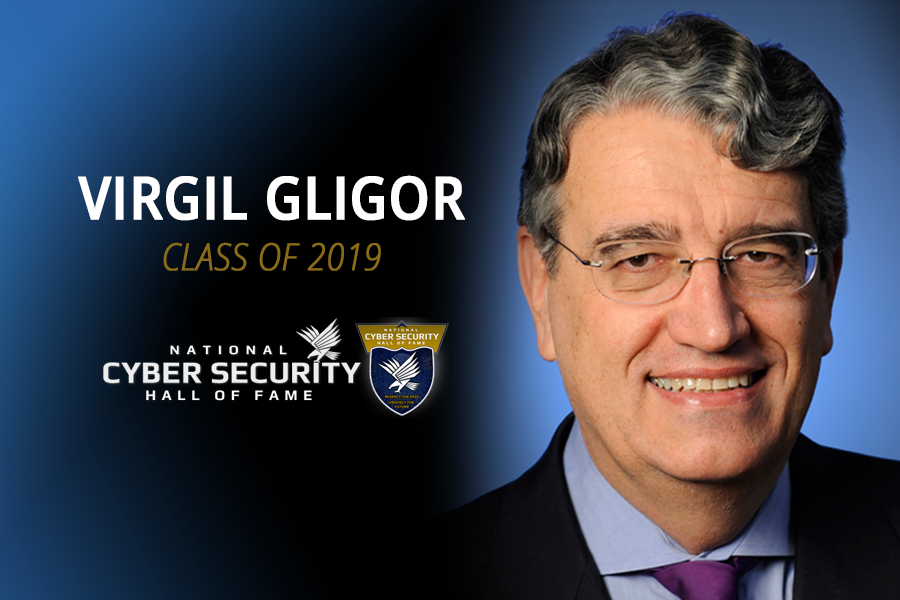 April 26, 2019
Virgil Gligor inducted to the Cybersecurity Hall of Fame
CyLab's Virgil Gligor was formally inducted into the Cybersecurity Hall of Fame this week at the Arundel Preserve Hotel in Hanover, Maryland. Gligor was chosen by a senior board based on five criteria: Technology, Policy, Public Awareness, Education, and Business.
"I am thrilled to be given this honor," says Gligor. "Past inductees are true pioneers in the field, and I am humbled to be placed among them."
Since 2008, Gligor has been a professor of Electrical and Computer Engineering, and previously served as the director of CyLab until mid-2015. Throughout his career, he has made fundamental contributions in applied cryptography, distributed systems, and cybersecurity.
Most recently, he authored a breakthrough study on establishing "root of trust," creating a test that – for the first time ever – can detect malware on a device with near certainty.
"Gligor is a pioneer of computer security and has dedicated four decades of his life to exploring cryptography and addressing issues within the cyber world, such as next generation security and trustworthy computing in the face of malware," reads a description of Gligor on the Cybersecurity Hall of Fame website.
After receiving his B.S., M.S. and Ph.D. at the University of California at Berkeley, Gligor taught at the University of Maryland from 1976 to 2007. In 2008, he joined as faculty at CMU and became the second director of the University's CyLab Security and Privacy Institute. He holds an Outstanding Innovation Award from the Association for Computing Machinery, a National Information Systems Security Award from the United States National Security Agency and National Institute of Standards and Technology, and a Technical Achievement Award by the IEEE Computer Society.
The National Cyber Security Hall of Fame was created and supported by companies and organizations committed to recognizing the individuals that played a key role in the creating of the cybersecurity industry.