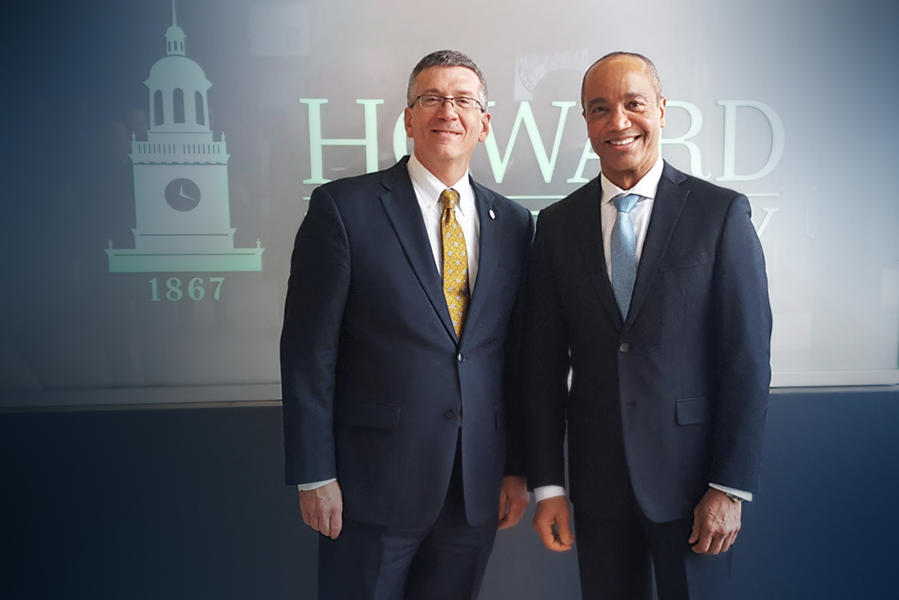 June 20, 2018
CMU and Howard offer dual engineering Ph.D. degrees
The College of Engineering is pleased to announce a new partnership with the College of Engineering and Architecture of Howard University. This partnership will cover a wide range of initiatives between the two institutions, including a dual-degree Ph.D. program that allows students to earn a Ph.D. degree from both schools. 
To qualify for this dual-degree program, students must apply and be admitted to engineering Ph.D. programs from both institutions, but the programs need not be in the same department at both institutions. Students will spend balanced time at each institution, including at least three academic semesters in each location.
Students will have an advisor from each program who will collaborate with them on research and to select relevant coursework from both schools that satisfies the requirements of each program. They may transfer courses between the programs and will submit and defend a single dissertation. In addition to the benefit of two academic advisors, students will also have access to a greater number of courses, a larger set of research facilities, and a wider research community located in two major metropolitan areas (Pittsburgh, PA and Washington DC).  
"The clear opportunities presented by this new CEA-CMU Partnership constitute yet another outstanding example of what we can and will continue to accomplish as a college," said Achille Messac, dean of Howard University's College of Engineering and Architecture.
In addition to this dual degree program, the partnership will include a bridge program to provide eligible undergraduates with the opportunity to engage in research at the other institution over the summer. The program will also include coaching for those students transitioning into the dual-degree Ph.D. program, as well as professional development programs.
Jonathan Cagan, the College of Engineering associate dean for graduate and faculty affairs, and Shawn Blanton, professor of electrical and computer engineering and chair of the Diversity, Inclusion and Outreach Committee, will lead the dual-degree program and other initiatives.
"Our aim is to explore a number of different forms of collaboration between Howard and CMU, such as joint research proposals and a dual-Ph.D. program," said James H. Garrett, Jr., dean of the College of Engineering.
Applications for the dual degree Ph.D. program will open this fall.