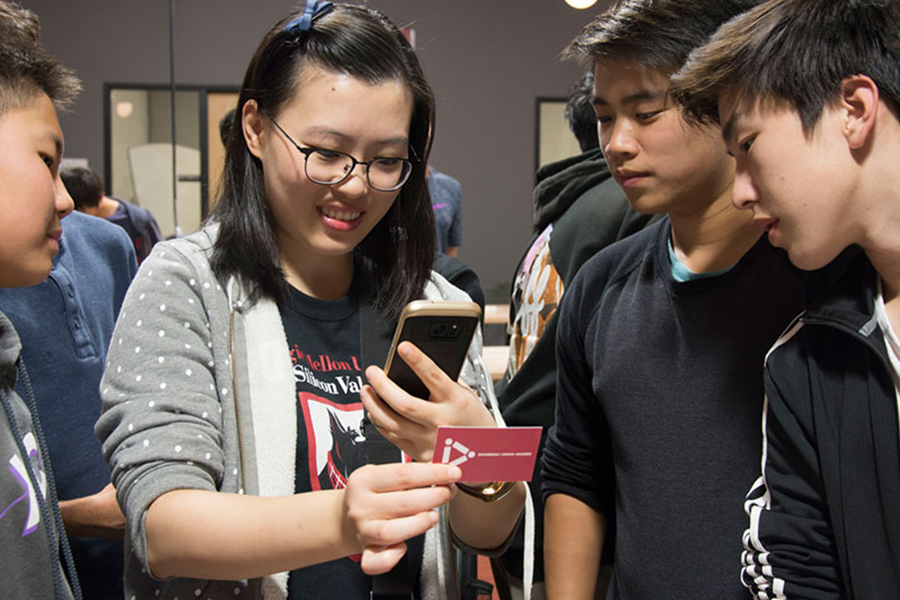 December 18, 2017
Students mentor teens in hackathons
Students and faculty from Carnegie Mellon University Silicon Valley are working to support the next generation of technologists by mentoring high school students competing in community hackathons.
"The first time I saw these teens, I was quite amazed by their passion for computer science," said Miaozhen Zhang, a master's degree student studying software management at CMU's Integrated Innovation Institute (III). "At CMU we work hard, but we are doing what we love. It was inspiring to share my passion with young people, to help them find what they love as well."
Instructor and CMU alumnus Catherine Fang has been a strong advocate for supporting Bay Area teenagers, connecting CMU students from the III, the Information Networking Institute and the Department of Electrical and Computer Engineering to many local volunteer opportunities, including recent teen hackathons MVHacks, which was organized by Mountain View High School, and CU Hacks 3, an event organized by the Cupertino Library and Santa Clara County Library District.
"Events like hackathons are good opportunities for our students to pay it forward to the community and share the expertise they acquire at Carnegie Mellon," Fang said. "Our Silicon Valley campus is rooted in the heart of the computer science industry, and our programs here are infused with both academic knowledge as well as industry best practices."
Fang said each semester CMU students brainstorm product ideas and push them through prototyping and productization.
"The MVHacks hackathon is like a mini-version of the process," she said. "We were very touched and inspired by the enthusiasm of the local high schoolers and their willingness to take on challenges."
Additional sponsors for the event included Microsoft, LinkedIN, Symantec and LeanGap.
With the support of CMU mentors, the 120 high school students from 25 area schools who participated in the inaugural MVHacks developed high-tech products and prototypes exploring many areas. For example, Team Food Raccoon developed an app to detect food waste by analyzing how much food is thrown away in IoT-enabled trash cans. One group of students created BookBuddy app, a technology to scan data about a book by taking a photo of its cover. And another team created Whiteboard Web, which aimed to use virtual classroom technology to make education more accessible to remote regions.
"We've already heard very positive feedback from participants and their families," Fang said. "We plan to keep the momentum going and make hackathon mentorship one of CMU Silicon Valley's traditions. Together, we can build a better community that is ready for the next digital transformation."
At CU Hacks 3, participants were encouraged to code prototype applications that would help the Cupertino community become a better place to live, while giving the high school students hands-on knowledge in computer science and software engineering. The winning team created an image recognition app that, when given a photograph of a plastic or glass bottle, a container or another object, would tell the user whether that item is recyclable.
"The students really learned a lot from all of the outstanding CMU mentors," said Matt Lorenzo, the teen services librarian at Cupertino Library and host of the hackathon. "It was a wonderful collaborative effort, and in the end, the teens created some really awesome projects that went toward helping the Cupertino community."
Elaine Aw, a software management master's degree student at CMU-SV, was a mentor for the Cupertino event.
"You can feel the energy in the room — the teens learned really fast," Aw said. "It's amazing that at their young age they were able to prove their ability to leverage new technologies, like Google Cloud Vision API and Firebase, to create new applications. It is a nice reminder that regardless of age, anyone can be creative, hack and create something of value."
Story originally published here.