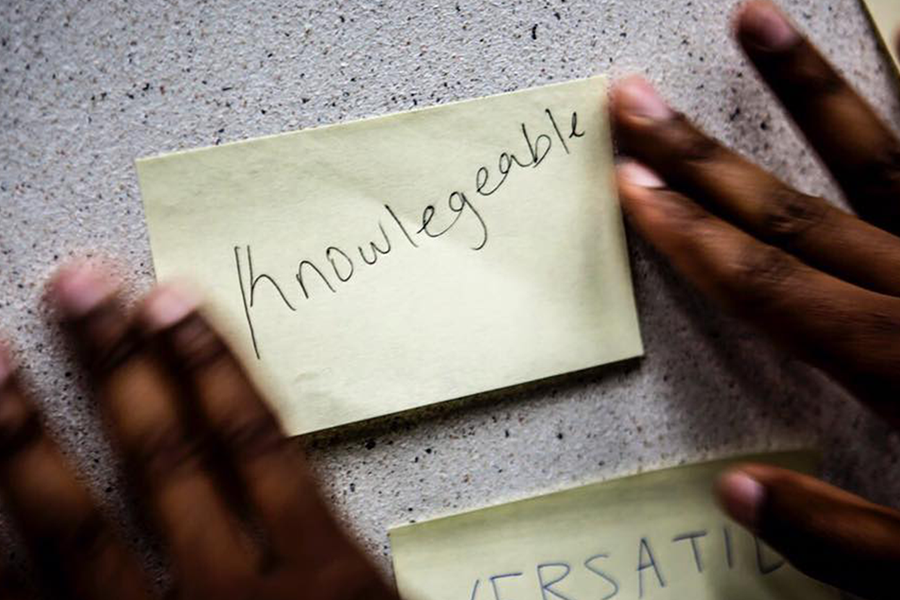 July 18, 2017
ECE works with NSBE to recruit grad students in engineering
Each year the National Society of Black Engineers (NSBE) holds a national convention for students and professionals who are high achievers, passionate about STEM, and always searching for ways to apply their talents to advance their communities and society at large. By 2025, NSBE wants to see 10,000 black engineers graduating annually. The convention is one way to attract students of all ages—from elementary school to those seeking graduate programs and full-time opportunities.
Faculty members and students from Carnegie Mellon's College of Engineering attended the most recent convention in Kansas City to invite students to pursue a graduate degree in engineering at Carnegie Mellon. Electrical and Computer Engineering (ECE) Professor Shawn Blanton headed the group of professors and current Ph.D. students to recruit potential candidates.
"I've been going to the NSBE convention for about 22 years," said Blanton. "Our main mission there is to advertise the graduate programs out of the College of Engineering to students."
Most students who attend the convention are seeking job opportunities. But the representatives from Carnegie Mellon explain the value of earning a Master's degree or a Ph.D. The goal is to pique students' interest in Carnegie Mellon. With resources from the dean's office, Carnegie Mellon representatives can interview students for graduate programs and admit them conditionally on the spot. Those students are then able to attend Carnegie Mellon in the fall.
It's a trend that many companies are following, but Carnegie Mellon is the first university to do so.
"We're reaching students that don't know about CMU," said Blanton, "who are high achievers and are very good at what they do. Because they're not considering this alternative career path, we're educating them to another level where they're even more competent in the field."
NSBE uses its programs, such as this convention, to nurture black students' and professionals' interest and aptitude in engineering, expand their professional horizons and lead the nation to greater economic prosperity fueled by innovation. Their mission is to increase the number of culturally responsible black engineers who excel academically, succeed professionally, and positively impact the community.
This year, the ECE Department also sponsored two ECE Master's students to attend the convention: Ferdinand Dowouo and Malvin de Nunez Estevez.
Both students were involved with NSBE chapters at their undergraduate institutions and learned about Carnegie Mellon by attending last year's conference in Boston.
"At this year's conference, I wanted to network with some potential companies for after graduation," said Dowouo, who just completed his first year in the ECE Master's program at Carnegie Mellon. "I was able to talk to a number of different companies in the areas that I'm interested in (signal processing and machine learning), interview with them, and now I have a job offer for after graduation."
Malvin de Nunez Estevez had a similar experience. When he attended last year's conference in Boston, he was looking for full-time opportunities.
"Over the loudspeakers I heard an announcement about CMU representatives who were available to talk about graduate school," said de Nunez Estevez. "I went, interviewed, and the following week I was accepted."
This year he attended the convention to pursue a summer internship in data science and machine learning. He was able to interview with some companies and received an offer from IBM, whom he will be working for this summer in New York.
"NSBE benefits students by helping to foster leadership skills. It gives you support when looking to enter industry with its network of professionals. The mentorship aspect also allows you to learn from people who have been through what you are going through, and to mentor you along your own path," said de Nunez Estevez.
Professor Blanton hopes to see more and more universities attend NSBE in the future to recruit students for undergraduate, graduate, and Ph.D. programs.
"If everyone starts doing what CMU does," said Blanton, "then that would make a huge difference in terms of the number of underrepresented minorities that go into the STEM fields." 
Photo courtesy of NSBE