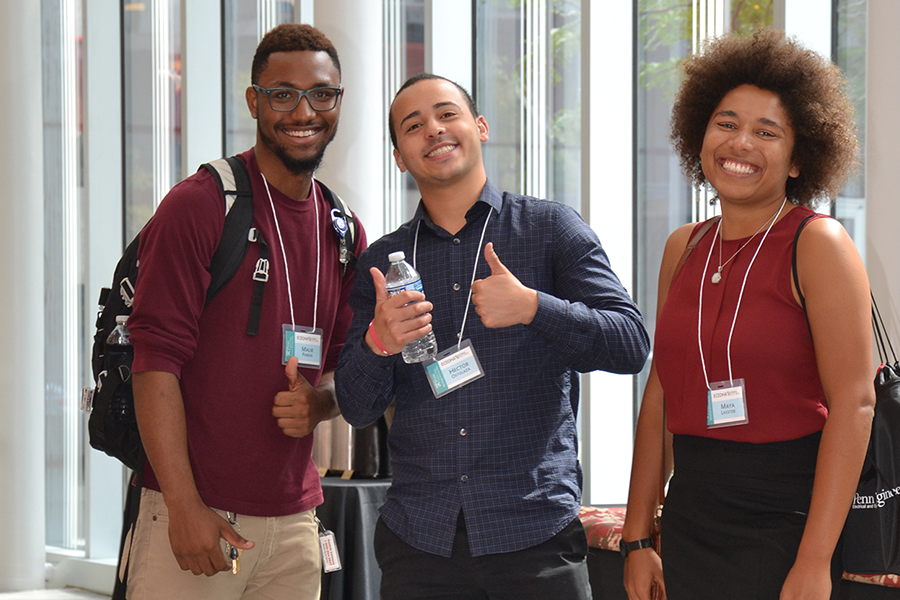 April 28, 2017
Regional meeting inspires undergrads to pursue Ph.D.
Last summer, Hector Ostolaza, Malik Parker, and Maya Lassiter, three undergraduate ECE students, attended the ECE Department Head Association (ECEDHA) Regional Meeting in Philadelphia, Pennsylvania. At the meeting, Osolaza, Parker, and Lassiter attended a program specifically geared toward undergraduate students, a program that ultimately inspired Osolaza to pursue his Ph.D. in electrical and computer engineering.
The ECEDHA is a national organization comprised of the departmental heads of accredited electrical and/or computer engineering programs. The association aspires to advance the field of electrical and computer engineering, stimulate conversation amongst its members, and improve communication within the profession, industry, and government. Throughout the year, ECEDHA's regional groups gather independently to discuss local and state issues pertinent to the region. Vickie Woodhead, ECE's undergraduate advisor, describes how students can benefit from attending academic conferences:
"I believe that in general, students benefit from seeing what other students, professionals, higher education institutions, etc. are doing. All of us benefit from seeing what others are doing in our field – it keeps us current and competitive at what we do. I am a firm believer in diverse experiences improving many overall experiences, both personally and professionally. We broaden our own personal horizons the more that we travel and meet other people."
Woodhead believes that students who attend conferences and meetings might be encouraged to pursue higher degrees of education because they have the opportunity to envision themselves in an academic setting.
"This particular conference was a wonderful opportunity because it was centered around department heads from various schools getting together. Students want to be able to see themselves in a role in order to picture what their own future may be like, and sometimes that is challenging to do when you think about academia. Having the opportunity to meet world class faculty in a setting where they are promoting opportunities for higher education is a unique experience and offers students the chance to really start to critically think about whether that is a role they could see themselves in."
Jelena Kovačević, ECE professor and department head, explained that the department will continue to support students interested in pursuing a career in electrical and computer engineering.  
"This exposure [from attending conferences] allows the students to interact with faculty and students at other universities and understand the opportunities of going to graduate school. The ECE Department provides travel opportunities for students to attend professional conferences (for example, when they co-author scientific papers) as well as workshops of this kind."
If the ECEDHA keeps offering student workshops, Kovačević said that, "the ECE Department will support students to attend."