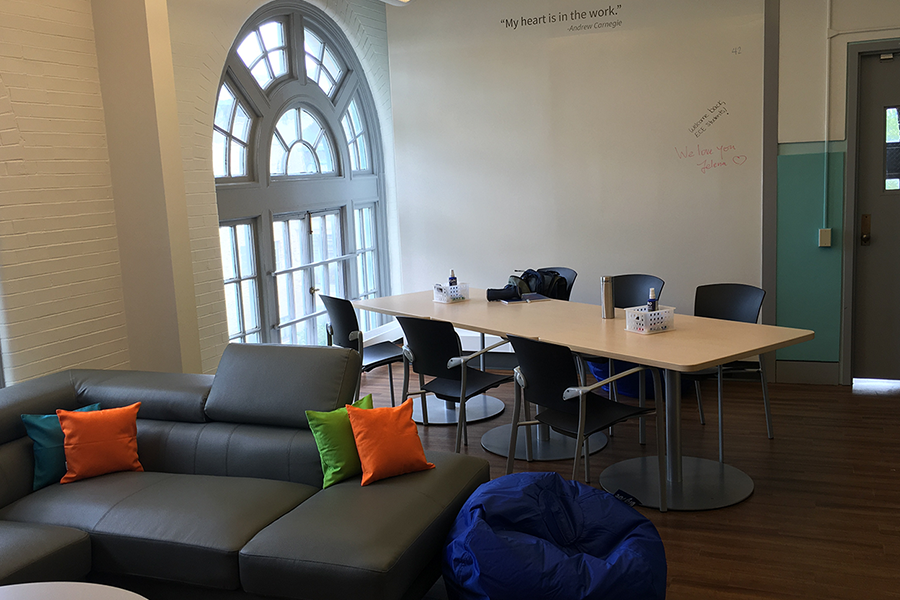 August 26, 2016
The new undergraduate wing
Students asked, and the department answered! The newly redesigned undergraduate wing allows for studying, collaborating, and relaxing.
Welcome area
Featuring a couch and magazine rack, the welcome area is the entrance to the undergraduate wing. The department will keep the magazine rack full of materials, like the ECE magazine and walking tour guides. Since the welcome area is a common meeting spot for prospective students and families, don't be surprised if you find this area filled with families waiting for a tour of the department.
Café
Waist-high counters have been installed in the first alcove along with whiteboard paint. This set-up will provide extra seating for dining and studying.
Digital displays
Digital displays have been installed in two of the study alcoves. Students will be able to connect to these displays via provided wires. Screen sharing will allow for student collaboration on projects and assignments.
Whiteboard paint
Whiteboard paint has been added to many of the walls in the undergraduate wing, along with dry-erase markers and cleaner. 
Undergraduate lounge
The focal point of the new undergraduate wing is the student lounge. A new couch, beanbag chairs, whiteboard paint, and a digital display will provide students with an inspiring yet relaxing atmosphere.