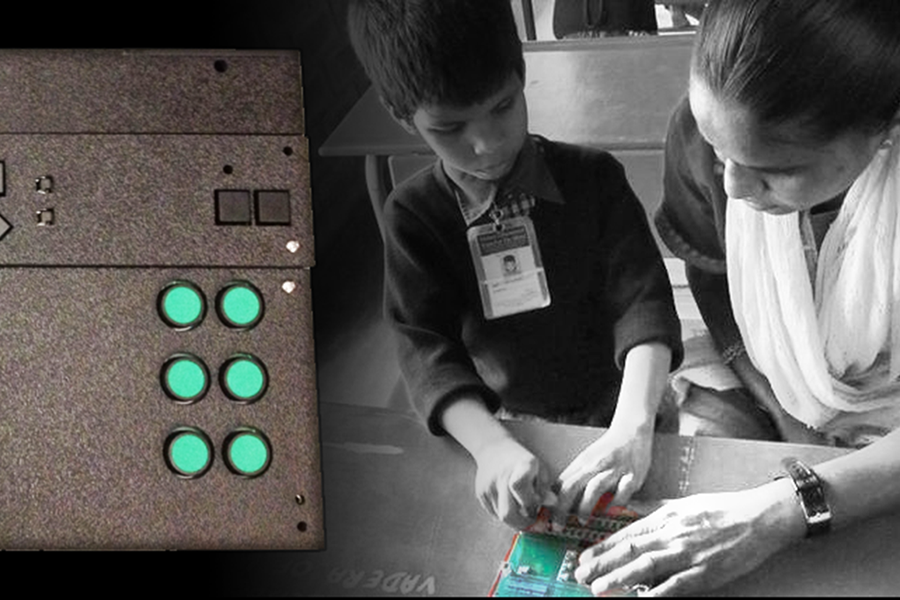 August 23, 2016
Improving global literacy with a braille tutoring device
Literacy is key to social and human development—which is supported by UNESCO's declaration of its status as a fundamental human right. Being able to write and read one's own language is crucial for participation in the ever-evolving world of communication—which makes global literacy, particularly in developing countries, a target of many humanitarian efforts.
But what about unspoken languages?
Susan Zuo, an undergraduate senior in electrical and computer engineering, has spent the last two years helping to develop a braille tutoring device to improve literacy in visually impaired communities around the world. In May, Zuo traveled to Stockholm, Sweden, to present her research on the Stand-Alone Braille Writing Tutor at the Institute of Electrical and Electronics Engineers (IEEE) International Conference on Robotics and Automation 2016.
"Before this project I had no prior experience working with blind populations, but the humanitarian side of this project really drew me in," says Zuo, who has been involved with the braille tutor project since the end of her freshman year. Zuo works on the back end of the device, doing internal processing, optimization, and development of the primary user interface for beginner braille learners.
In braille, each letter and number is represented through a unique six-dot pattern. The same six-dot system is used across all languages—English and Hindi alike. The battery-powered braille tutor, a black box with six buttons that represent braille dots, offers three different automated, audio-based user interfaces: primary, intermediate, and advanced.
"What's interesting is that when a blind person writes braille, they have to write the mirror image of each letter with a stylus, and when they push on the paper, they have to flip the paper over to read it so they feel the bump of the dot," explains Zuo. "In order to read it, it has to be written as a mirror image, so it's a lot of mental work. So the concept behind the braille tutor is that we have enlarged six physical push buttons that represent the braille dot, and we're teaching people how to write braille, rather than read it."
The device, which is open-sourced, teaches how to write braille through games—for example, one of the games includes a two-player version of Hangman, in which one student writes a word in braille into the device, and the other student has to guess the word by writing individual braille letters. The device has two modes—learning and testing—which teaches the user to practice different braille patterns. In addition to English, the tutor also includes a setting for Hindi braille.
This winter, Zuo will travel to the Mathru School for the Blind in Bangalore, India to complete her project. The IEEE Robotics and Automation Society Special Interest Group on Humanitarian Technology (RAS-SIGHT), will provide funding for Zuo's travel. In Bangalore, she will collect user feedback, compile errors, and upgrade the current test device, which has been deployed in a classroom in the Mathru School for several years, with their most up-to-date software.