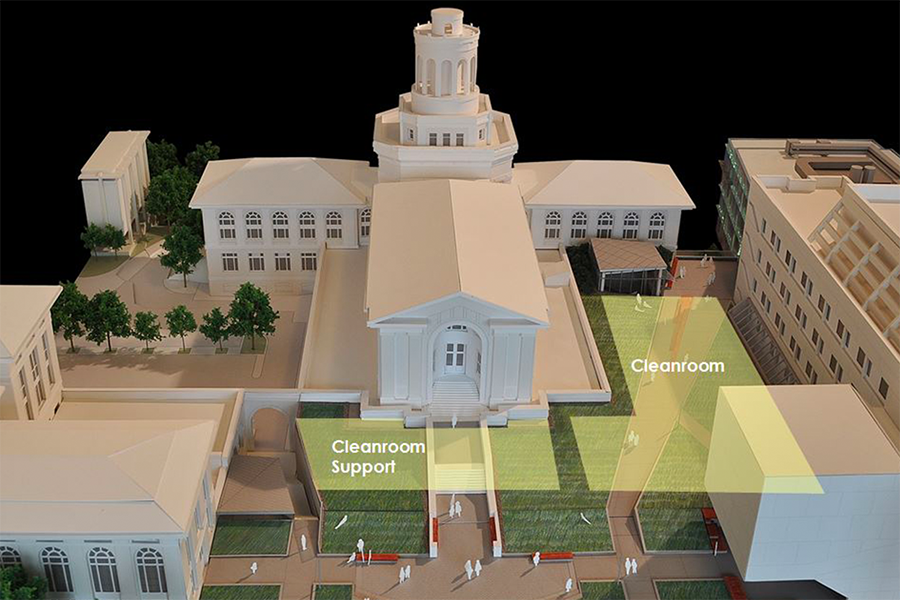 July 13, 2016
Scott Hall to add new nanofabrication facility
In true Carnegie Mellon style, the university is fusing hands-on learning experiences with high-impact, solutions-based research in one multidisciplinary hub — The Sherman and Joyce Bowie Scott Hall. The building itself spans multiple disciplines, and will provide a new home for a nanotechnology research facility.
A premier research laboratory in ECE and the College of Engineering, the Carnegie Mellon Nanofabrication Facility, or Nanofab, is currently located on the F-level of Hamerschlag Hall and centers around a cleanroom having 1,200 square feet of class 10 space and 2,600 square feet of class 100 space, as well as three thin film labs. The new Claire and John Bertucci Nanotechnology Laboratory, located below the new Courtyard, will encompass almost 11,000 square feet of total space, including approximately 8,500 square feet of both class 100 and class 10 space. 
Contained within the Bertucci Nanotechnology Lab is the 8,500 square foot Eden Hall Foundation Nanofabrication Cleanroom, which will allow nanoresearchers to explore new avenues of nanoscience and is easily available to those in all seven buildings surrounding the area. However, the cleanroom is not the only interesting aspect of the Bertucci Nanotechnology Lab: the area, entered through a glass pavilion, has a green roof with skylights that extends the lawn of the Hornbostel Mall in front of Hamerschlag Hall, providing more space for work (and relaxation) both inside and outside of the building, and which completely changes the space.
Originally constructed by the university to support thin film and solid-state electronic research, the Carnegie Mellon Nanofab has grown in size and is now known as one of the most well-equipped, university-based facilities for thin film and nano/micro-device development in the United States. 
"The creation of the new Claire and John Bertucci Nanotechnology Laboratory will transform the way we serve CMU-affiliated faculty and students, members of other institutions, and industry partners," said Gianluca Piazza, ECE professor and director of the Nanofab. "The added capabilities in this new space will revolutionize nanoscale science and engineering at Carnegie Mellon and ensure we become one of the premier nanofabrication labs in the country." 
Although the Nanofab is a self-supporting facility managed by the Department of Electrical & Computer Engineering, research requiring the use of the facility is inherently multidisciplinary. Faculty, staff, and students access the labs and collaborate on projects originating from all departments within the College of Engineering, Physics, Robotics, Biology, Chemistry, numerous labs, and industry. 
Learn more about the Carnegie Mellon Nanofabrication Facility: