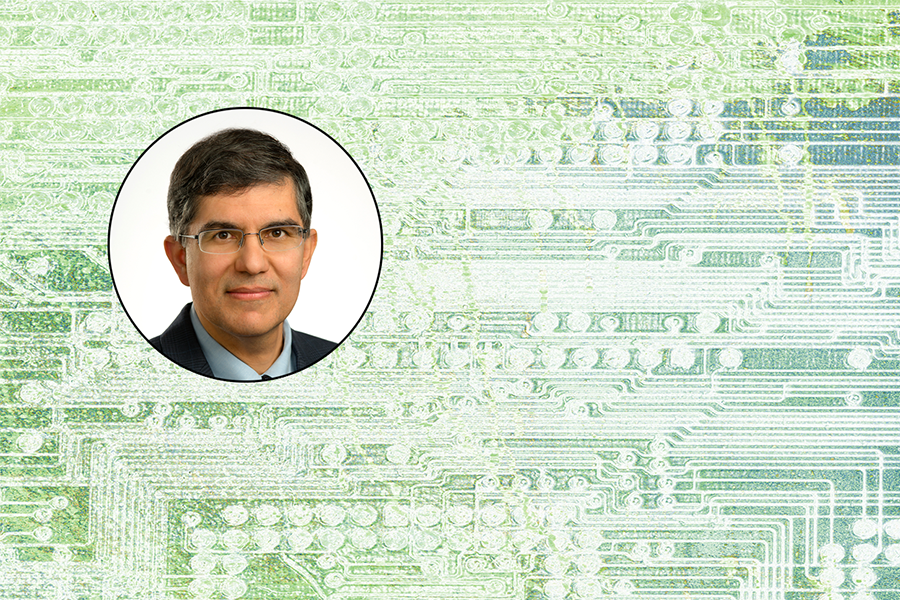 April 07, 2016
Eye for image
By Alexandra George
Beauty is not in the eye of the beholder when it comes to image displays. Instead, sophisticated technologies come into play to present images with the best possible quality. It takes a certain eye and mind to work on display technology, and ECE alumnus Dr. Nikhil Balram is one of the best. 
To recognize Balram's influence on display image quality, the Society for Information Display (SID) has awarded him the 2016 Otto Schade Prize. The Otto Schade, Karl Ferdinand Braun and Jan Rajchman prizes are the three biggest honors awarded by SID. Winners of Nobel Prizes, Emmys and other honors in overlapping fields have also won these awards. With his significant impact on consumer, military, and professional display products, it is no surprise that Balram's name joins this list. 
The Otto Schade Prize recognizes outstanding contributions to the functional performance and/or image quality of information displays. Balram was awarded the prize "for his outstanding contributions to image, video, and display processing technology, and for development of objective image-quality benchmarking methodology that helped bring world-class image quality to mainstream consumer displays." 
As President and CEO of Ricoh Innovations Corp., a Silicon Valley company that creates new technologies and businesses based on advanced information technology for Ricoh Company Ltd., he has had significant experience in the industry pursuing his goal — creating the best image for the viewer. His contributions have been implemented across military, professional, and consumer products, and he is responsible for bringing high-end quality video to mainstream displays. 
One of his significant developments is a set of high-quality, award-winning, and low-cost video processing algorithms and architectures. These have gone into hundreds of millions of consumer video electronics products, as well as into a broad range of high-end video and display systems. 
"For example, a large percentage of video entertainment systems used in private aircraft use video processing chips developed by my teams," said Balram. "When some very famous people watch video while flying in their private planes, that video is processed by my algorithms and chips." 
He also developed a method for enabling system transfer function analysis for design of flat panel displays, which is an extension of the traditional MTF model. His work was used by the aerospace industry. He created the first real-time digital warping IC technology that has been used in head-mounted and projection displays and wide field-of-view imaging systems. Most recently he developed a series of new ideas around the next generation of mobile displays using light fields.
The prize is a significant honor, but Balram is not new to winning awards. In 2012 he won the Gold Stevie Award for Executive of the Year in Electronics, an award that the CEOs of Samsung Electronics and Sony both won in 2011 and 2014 respectively. 
"While many people win prestigious prizes in research and technology or in business and marketing," said Balram, "I am fortunate to be in a relatively rare group that has won both types of awards."
With over twenty years of experience in the industry, he is known as an expert innovator in advanced information and display technologies. But his influence does not stop in industry. As an adjunct professor of electrical engineering at Carnegie Mellon University, visiting professor of vision science at the University of California, Berkeley, and a guest professor of design and innovation at the Indian Institute of Technology (IIT) in Gandhinagar, India, Balram is well-revered in academia, and brings his expertise to the classroom to train the future developers of the display industry.
"I have really enjoyed working on the whole path of visual processing from image creation and processing all the way to presentation on the display and viewing and enjoyment by the consumer," said Balram. "I am looking forward to the very interesting things ahead for all of us in the next generation of imaging and display systems."