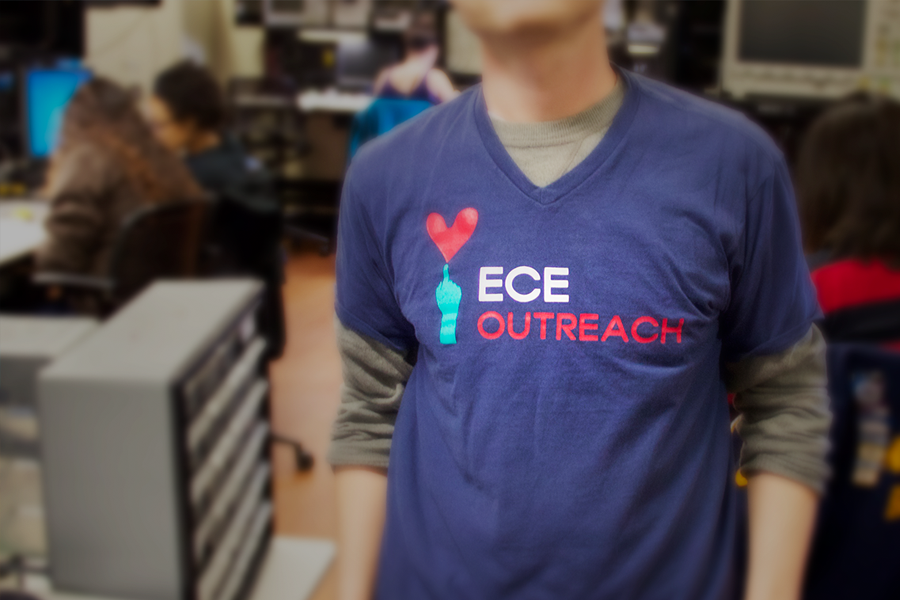 March 11, 2016
ECE Outreach: bringing ECE to middle and high school
By Emily Durham
Nearly three years ago, a group of precocious high school students convened on Carnegie Mellon's campus for the first-ever SPARK Saturday, voluntarily choosing to spend their Saturday morning in a college classroom programming in Python, learning Boolean logic, coding in binary and designing circuits. The successful event, hosted by ECE Outreach — a student-run organization that introduces middle and high schoolers to basic concepts in electrical and computer engineering — forecasted a bright future for the group. In just three years, ECE Outreach has expanded tremendously, with no sign of slowing down.
SPARK Saturdays, the first program offered by ECE Outreach, was launched in the spring of 2013 by the group's former president, Niharika Singh (E'14). The program is spread out over four two-hour Saturday sessions per semester, a different topic showcased each lesson. 
"The idea was to have one lab from each of the four sections of ECE," explains Singh. "As ECE undergraduate sophomores, we are required to take four 200-level courses, and we wanted to give the kids a more basic version of each of those 200-level courses to get them exposed to everything."
In addition to SPARK Saturdays, ECE Outreach now offers two new programs: Snap Circuits and Mobile Labs. Snap Circuits is a simpler circuitry-focused program geared towards middle school students, and the Mobile Labs are a modification of the SPARK Saturdays curriculum designed to take directly to participating high school locations.
"My dream has been to kind of do an engineering road show," says Professor Tom Sullivan, ECE Outreach's faculty adviser. "What I've been envisioning is putting together a portable lab we could bring to schools that can't come here. The Saturday program is great if the parents can get their kids here, but in some of these areas, parents have to work, or they're single-parent homes, or transportation isn't available to get these kids to campus. So if we can make these things small enough, portable enough, we could go to any school, set up a table or a bench and run our programs remotely."
As a pilot to Sullivan's "road show," last spring ECE Outreach tested out the Mobile Labs by taking their SPARK Saturdays learning modules to Oakland Catholic High School. Held as an after-school program, the response was resoundingly positive. One student who participated in the program even enrolled in Sullivan's pre-college Introduction to ECE summer course.
"When I was in high school, I wanted something like this," says Madison Scott, Co-President of ECE Outreach. "I didn't know the difference between computer engineering and computer science, and I wished I had some kind of direction. I think ECE Outreach provides kids with some insight and gets them interested in something they really love."
Even if the kids don't understand everything they're being taught right away, according to Co-President Paola Aguilar, just taking the time to expose kids to these concepts is enough.
"This is the first time they're seeing these things," she says. "Even if it may be very basic for us, it's not for them. At a point, you have to accept that they've learned something, and that's better than them not learning anything. Even if they don't understand the full concept, they've been exposed to it."
With five kids of his own, Sullivan strongly believes in the importance of bringing this exposure to primary school classrooms.
"Once my kids got into school, we started to get requests for parents to come in and talk about their careers," says Sullivan. "I would bring these little robots into their elementary schools, and some of the kids were really excited about it. I also brought a bunch of robot parts that I would let them play with. I remember this one girl putting together this imagined robot using the parts. Of course, she didn't know what parts went together with what — it didn't matter — but she was fascinated with the pile of parts and constructing something out of them, having the ability to just build something.
"I remember thinking, this is exactly what we want. We want to get kids' hands on this stuff so they can see how much fun it is."