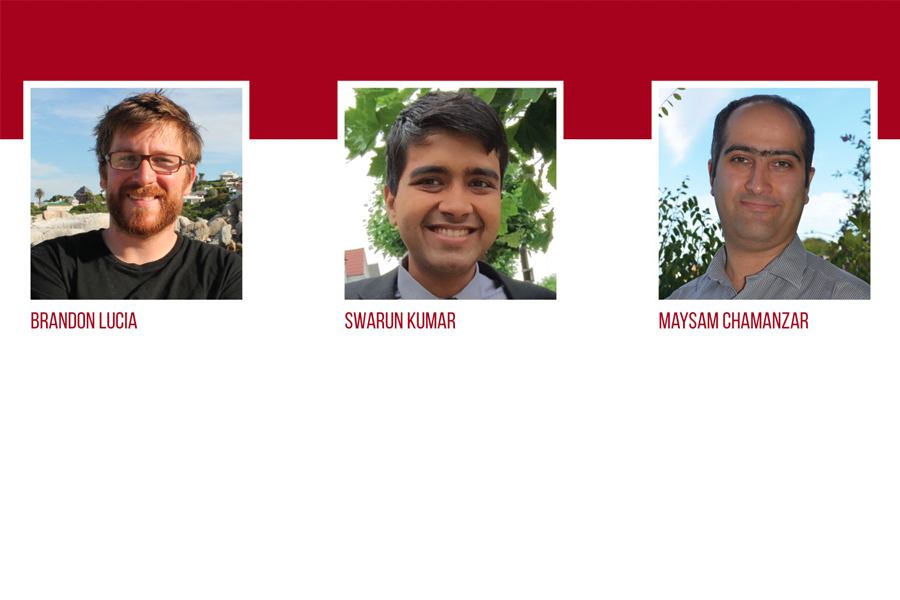 January 11, 2016
Meet the new ECE faculty members
As a new semester begins, we welcome three new faculty members to ECE. Meet Brandon Lucia, Swarun Kumar, and Maysam Chamanzar.

Brandon Lucia
Please introduce yourself.
My name is Brandon Lucia. I started in 2015 as a professor in the Electrical and Computer Engineering Department at CMU, and I lead the ABSTRACT research lab. Before I was at CMU, I was a researcher at Microsoft Research, in Redmond, WA. I got my M.S. and Ph.D. in Computer Science and Engineering from the University of Washington, and a B.S. in Electrical Engineering and Computer Science from Tufts University.
What excites you most about teaching at CMU?
The students! Since I have arrived at CMU, I have been totally blown away by the creativity and initiative of the students here, from the undergrads I have in 545 and the ones doing really cool stuff at Build18, to the masters students working in my lab on research projects, to the first-rate Ph.D. students working in all different areas of ECE. Being surrounded by brilliant people who cannot wait to go and contribute something to science, engineering, and society is what really gets me excited to be at CMU.
What can future students look forward to as they interact with you as a faculty member?
My main interests are in computer architecture and computer system design. I am especially interested in energy-harvesting computer systems, which extract their operating power from their environment and novel parallel computer systems, which are becoming increasingly heterogeneous and unreliable.
In my research, I like to look at and redefine all the layers of a system, from its hardware architecture, to its system software, to its programming model and even to the applications. It's really fun and effective to work at the boundaries between the layers and to figure out how to co-design different parts of the system together. For example, right now in my lab we are developing a new hardware/software execution model for energy-harvesting systems and a new software programming and debugging model to go with it. We're also looking at defining the hardware memory architecture and the software memory model for the next generation of parallel computers. To make both of these projects work, we can't just design these at one level of the system; we need to cut across the whole system stack.
I am particularly interested in research that gives computer systems fundamentally new capabilities by making them, say, more reliable, more programmable or more energy efficient. I like to think about these kinds of transformations in technology as an enabler for things to change in science and society. If we make parallel computers orders of magnitude faster, we can work with biologists or chemists to develop simulation models that can answer questions that, right now, no one can answer. If we make energy-harvesting computers reliable enough for use in high-value, high-cost space exploration, we can work with NASA to support the emerging consumer space industry. And these applications are only a couple of quick examples.
Research in computer architecture and systems is awesome because you never know where it is going to take you! Everyone—scientists, engineers, makers, artists, society—can take advantage of improvements in computing hardware and software, and that's exactly what my students and I are working toward.
What is a fun fact about you that would surprise your students?
My experimental music trio, 'netcat,' released our album in 2014. To make the album, we wrote thousands of lines of code, implementing, amongst other things, the Chango, a synthesizer that interprets patterns of light and generates sound. In addition to doing a cassette and digital download release, we also did what we believe is the first-ever album release in the form of a loadable Linux kernel module. And some people actually built and used it!
---

Swarun Kumar
Please introduce yourself.
My name is Swarun Kumar. I design and build systems to enable faster wireless networks that can also provide new services. To do so, I study wireless signals at the physical layer to analyze their impact on data traffic and user applications. My research has targeted a wide range of applications such as: GPS for indoors, robotic networks, wireless security and driverless cars. My work has appeared in top academic conferences and has been featured as research highlights in the Communications of the ACM (CACM) and the International Journal of Robotics Research (IJRR). I have also collaborated with multiple industry partners in deploying my solutions including two startups, Intel, Foxconn and Alcatel-Lucent. I will be joining ECE as an assistant professor the spring of 2016. I look forward to teaching courses in the area of wireless networks, communication and computer systems. Prior to CMU, I worked on my Ph.D. in wireless networking at the Computer Science & AI lab at MIT, where I also received my master's degree. My undergraduate degree is from the Indian Institute of Technology Madras. I am originally from Chennai, India.
What excites you most about teaching at CMU?
CMU has an amazing blend of world-class researchers and highly talented students. I am excited to work with the faculty and explore new areas and interested in fostering new collaborations within the department and across campus. I am eager to work with students on a range of innovative and impactful projects to shape networks of the future. I look forward to teaching interactive and hands-on courses at CMU and help students connect concepts in class to problems they face in the real world.
What can future students look forward to as they interact with you as a faculty member?
I enjoy working closely with students and taking their research ideas into fruition. I have found that many interesting innovations in my projects often stemmed from brainstorming with students over a cup of coffee. I believe it is important to put their interests first. As researchers, we thrive only when we truly enjoy the work we do. I look forward to working with students who are free thinkers, can connect different disciplines and have fun doing their research.
What is a fun fact about you that would surprise your students? 
One of my most favorite hobbies is writing poetry. As a kid, I used to write a poem nearly every day and still keep multiple books of my old poetry. I was very particular about making every poem rhyme. When I couldn't find a word that rhymes, I didn't give up... I would just invent one!
---

Maysam Chamanzar
Please introduce yourself.
My name is Mysam Chamanzar. I grew up in Tehran, Iran, where I completed my undergraduate studies and earned a master's degree in Microwave Communications from Tehran Polytechnic and Sharif University in 2003 and 2005, respectively. I got my Ph.D. in Electrical Engineering with a minor in Physics from Georgia Tech in 2012. I received the Sigma-Xi (the scientific research society) Best Ph.D. Thesis Award in 2013 for my dissertation on Hybrid Plasmonic-photonic Biosensors. Then I joined University of California, Berkeley as a postdoctoral researcher to design implantable acousto-opto-electrical neural interfaces, a radical technique to interrogate neural circuits in the central nervous system. I believe such technologies will revolutionize our lives by mitigating brain disorders and enhancing our natural abilities through effective brain-machine interfaces.
What excites you most about teaching at CMU?
I found CMU a vibrant, friendly and collaborative environment. I am planning to use concepts in photonics, nanotechnology, MEMS and Electronics to develop neural interfaces with which we can decipher the neural basis of brain function, control machines with the brain and control the brain with machines. This is a highly multidisciplinary research area that can only be carried out where there is a culture of collaboration. The strong body of students and experienced faculty at CMU, especially in ECE, convinced me that CMU is the place where I can achieve my scientific goals.
What can future students look forward to as they interact with you as a faculty member?
I am very good at teaching and explaining the most sophisticated concepts in a very simple and easy way. It was a rather long journey for me to find my way through the traditional Electrical Engineering discipline to the amazing world of brain science. I believe ECE students are in the best position to devise next-generation neuro-technologies and address the biggest challenge of our era: understanding brain function. We have been learning about the amazing world around us using our brains; now it is time to understand how the brain itself works! I am committed to paving the way for the students in my lab and in my classes to learn the fundamental concepts of applied physics as they relate to neurotechnology and to become pioneers in this field.
What is a fun fact about you that would surprise your students?
I love gardening. I collect and grow exotic plants. When I travel to new places, I always try to visit botanical gardens.