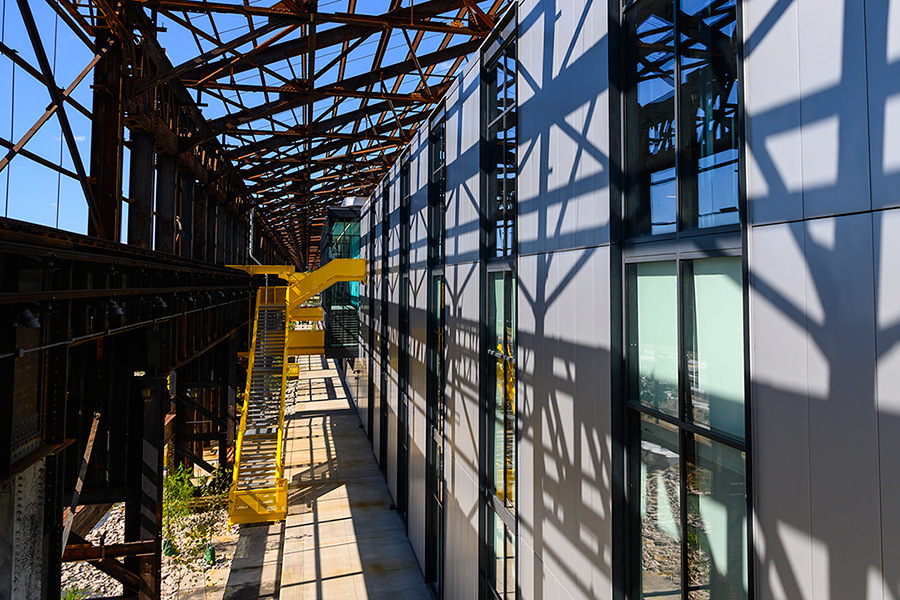 September 24, 2019
Mill 19 opening signals new era of manufacturing
Carnegie Mellon University researchers and robots will soon occupy a state-of-the-art facility at the newly constructed Mill 19 building on the 178-acre site known as Hazelwood Green.
The first building of the new Hazelwood Green development, Mill 19 once served as the location of the Pittsburgh region's most productive steel mills, employing more than 5,000 workers during its heyday. Today, as Carnegie Mellon gathers with community members and partners to celebrate its grand opening, Mill 19 will once again represent the region's leadership in manufacturing.
On Sep. 4, CMU, the nonprofit Advanced Robotics for Manufacturing (ARM), which was catalyzed by Carnegie Mellon, and Catalyst Connection will host an event celebrating the opening of Mill 19. The event brings together community and government leaders, foundations, and representatives from industry. Invited guests and members of the media will be able to visit the facility and view demonstrations.
The Mill 19 opening is an exciting chapter in a story first envisioned and brought to life by three Pittsburgh foundations—The Richard King Mellon (RKM) Foundation, The Heinz Endowments, and the Claude Worthington Benedum Foundation. In 2002, they purchased the dormant site with the goal of creating a new platform for experimentation to advance Pittsburgh's evolving innovation economy. 
"Mill 19 at Hazelwood Green represents both our storied past and the promise of the region's future as a global innovation leader," said Carnegie Mellon President Farnam Jahanian. "The opening of this hub will usher in a new era of manufacturing while also serving as a powerful reminder of what we can achieve when public, private, civic, and community partners come together to fuel innovative discovery and broaden opportunity."
Before construction began on the first building, ARM and CMU's Manufacturing Futures Initiative (MFI) signed on as the anchor tenants with the Regional Industrial Development Corporation (RIDC), which owns Mill 19.
With more than 200 members, ARM prepares American companies to achieve global leadership in innovation by equipping workers with the best technological tools and workforce programs. ARM also will help small businesses that have been shut out of previous robotics advances to adapt the newest technologies to their needs, further building the manufacturing base and promoting innovation.
Also co-located at Mill 19, MFI was launched in 2017 after receiving a $20 million gift from the RKM Foundation. MFI brings CMU researchers together to advance discovery in the areas of machine intelligence, manufacturing technologies, and human intelligence. The initiative builds on CMU's strength in research and development. It aims to attract public and private sector partners to push advanced manufacturing research, bridge the gap between manufacturing research and industrial use, and foster economic development in the region and the state.
"CMU's core activities in education and research are focused on invention, discovery, and relentless innovation," said MFI Faculty Director Gary Fedder. "MFI will serve as the mechanism through which we create new technologies that ARM will then introduce to industry and bring out into the real world for transformative impact."
Mill 19 will function as a collaborative innovation space for MFI and ARM. The two organizations occupy the first two floors of the building and nearly 60,000 square feet. The space includes a high bay and a corridor of flexible lab bays, as well as a conferencing and workforce training center. Catalyst Connection, southwestern Pennsylvania's manufacturing extension partner, is moving its headquarters to the third floor of the Mill 19 building in November of 2019. The organization serves as a resource for small and medium manufacturers in the region, and will collaborate with both MFI and ARM. 
Mill 19 will soon be home to a number of projects expanding from CMU's main campus, including an exciting new University Leadership Initiative funded by NASA. CMU is a world leader in 3D printing, defining the future of advanced manufacturing from metals to bioprinting. With this strong foundation in AM, led by the Next Manufacturing Center and MFI, along with the support of the NASA University Leadership Initiative, researchers from CMU will develop a new ecosystem that allows for the improved qualification of AM processes and materials in aviation. A collaboration between CMU and several other companies and institutions, this work will largely be housed in the Mill 19 facility.
Mill 19 is even currently housing tenants, including the univeristy's self-driving vehicle program. In the Roundhouse, an old building along the river in Hazelwood, CMU researchers built the Boss, a self-driving vehicle that won the 2007 DARPA Grand Challenge. The victory proved that autonomous vehicles (AV) were possible, and later the university's AV program moved to campus where it flourished under the leadership of Raj Rajkumar, professor of electrical and computer engineering. CMU's faculty and students have helped establish Pittsburgh as an international AV hub; however, our work isn't done.
That's why Rajkumar's team is returning to the site where both the Boss and the university's current self-driving vehicle were built. His is the first CMU lab established at Mill 19. The move makes sense for a variety of reasons: the new location provides ample space for researchers to develop next-generation AI and connected automation for self-driving cars, and students will benefit from their close proximity to tech companies.
Sandra DeVincent Wolf, executive director of MFI, is determined to bring research and partnerships to Mill 19 that will have lasting impact.
"We are excited to be able to provide a home for students, faculty, government, and industry partners alike to come together to foster revolutionary ideas in the field of manufacturing and are committed to making this a vibrant resource," Wolf said. "The opening of Mill 19 is a bold next step, one that will serve to further the vision of transforming manufacturing and catalyzing economic development in Pittsburgh and beyond."