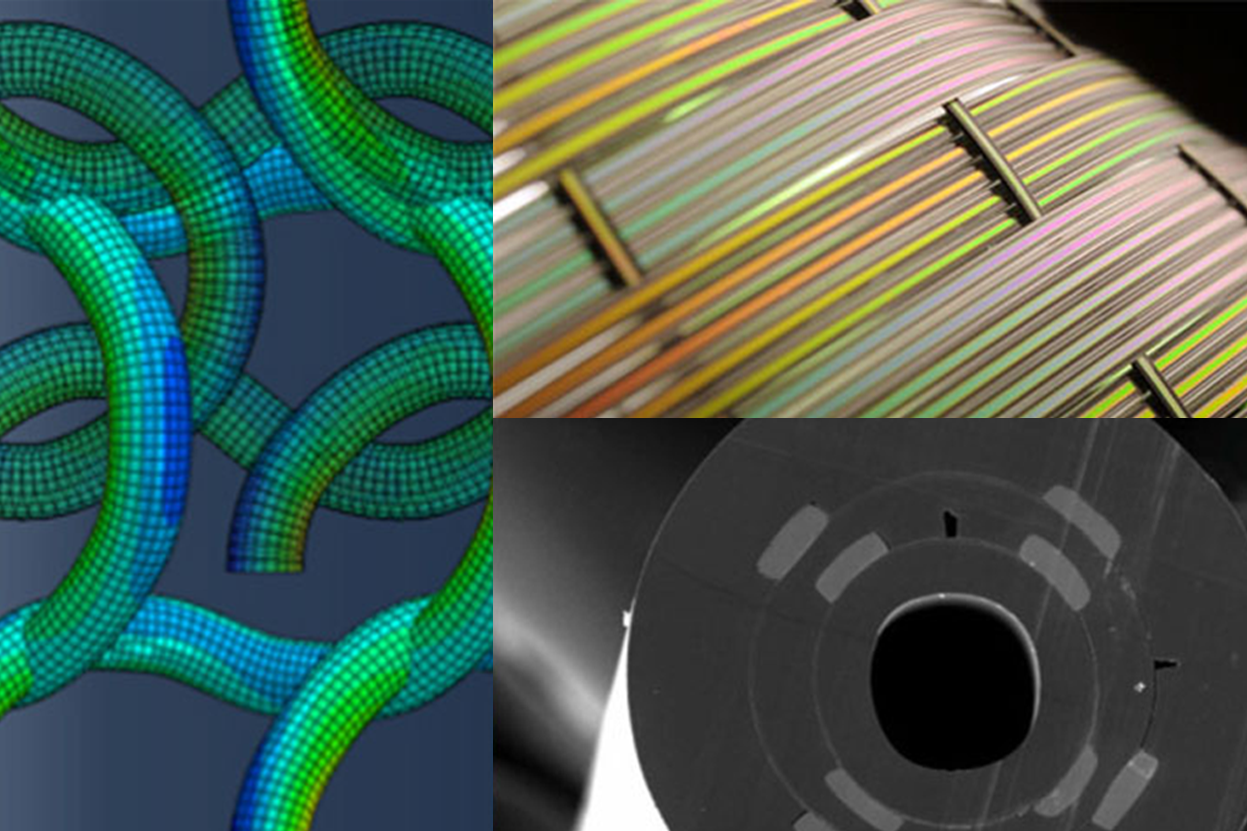 April 01, 2016
CMU joins national network for manufacturing innovation to support research on functional fabrics
The U.S. Department of Defense has tapped Carnegie Mellon University as a partner in a $75 million national research institute that will support American textile manufacturers in bringing sophisticated new materials and textiles to the marketplace. The institute, called Advanced Functional Fabrics of America (AFFOA), will be a national manufacturing resource center for industry and government to draw on the expertise of academic researchers working with new fibers, fabrics and materials and developing the technology that can integrate them into products from active wear to protective armor. 
Secretary of Defense Ashton Carter formally recognized Advanced Functional Fabrics of America as one of the White House's National Network for Manufacturing Innovation (NNMI) institutes in a ceremony at the Massachusetts Institute of Technology today. The NNMI initiative is a $317 million public-private effort to boost the value of American-made products on the international market, by using new materials and manufacturing methods. 
"The AFFOA initiative will provide unique opportunities for Carnegie Mellon to enable new materials, devices, systems, and applications. The integration of sensors and actuators in electronic textiles and smart fabrics can help widen the use of existing applications and open new applications in health, education, transportation, or Internet of things. I strongly believe that AFFOA offers an unparalleled opportunity for developing our workforce. Indeed, new generations of scientists and engineers will be trained in integrating sensors, actuators, photonics into wearable clothing fabrics. We are looking forward to being part of AFFOA and connecting with other academic and industrial members" says Diana Marculescu, professor of Electrical and Computer Engineering at Carnegie Mellon. She is leading a group of faculty that will focus on development of electronic textiles with novel properties enabled by the embedding of processing, sensing, and actuation.
The Advanced Functional Fabrics of America group includes 31 academic institutions, including the likes of Carnegie Mellon University, Cornell University, The Ohio State University, the University of Michigan and the University of California – Davis. It counts 16 companies as industry partners, NIKE, Microsoft, Good Year, The North Face, Bose and Medtronic among them. In addition, 26 start-up incubators and venture capital groups, including Angel Capital Associations, Westbury Partners and North Bridge Venture Partners have pledged support to AFFOA.
Carnegie Mellon is part of a mid-Atlantic research hub led by Drexel University that links research institutions including Penn State, Temple University, Thomas Jefferson University, Philadelphia University and the University of Delaware to manufacturing and investment partners DuPont, Ben Franklin Technology Partners of Southeast Pennsylvania, the City of Philadelphia Office of Manufacturing and Industry and the Pennsylvania Department of Community and Economic Development. 
The mid-Atlantic cohort will lead investigations into modeling, designing and predicting the utility of new fibers, yarns and materials, as well as using those new materials to build prototypes of functional fabrics for apparel, healthcare, transportation, consumer electronics, architecture, and the defense industry. 
For more information about AFFOA visit: http://www.rle.mit.edu/fabric/