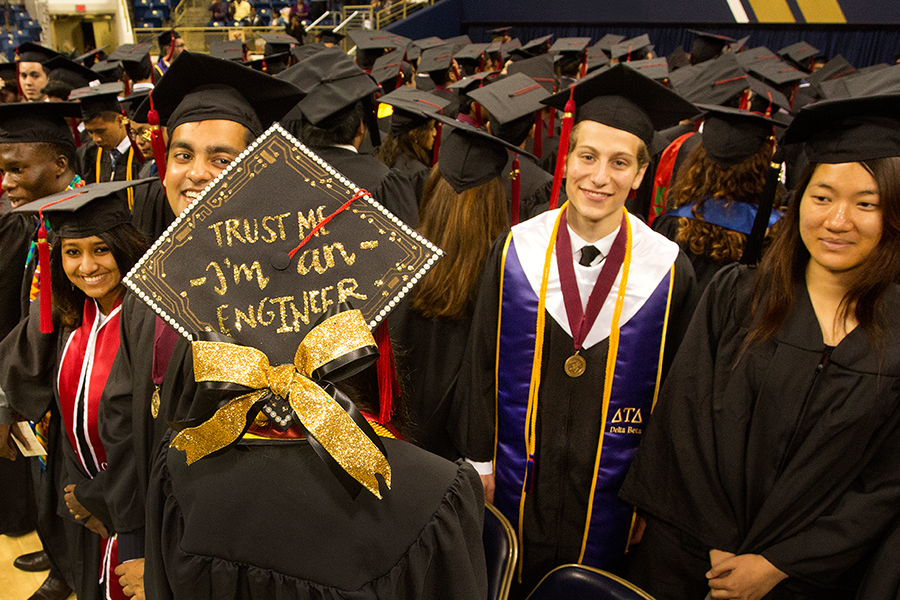 May 10, 2018
Commencement and diploma ceremony information
CMU Commencement Ceremony
When: Sunday, May 20, 2018 at 11:00 a.m.
Where: Gesling Stadium, Carnegie Mellon University
More information on the commencement ceremony can be found here.
*The main ceremony lasts approximately 90 minutes. Graduates will receive their diplomas at the ECE Diploma Ceremony.
ECE Diploma Ceremony
When: Sunday, May 20 at 2:00 p.m.
Where: Petersen Events Center, 3719 Terrace Street, Pittsburgh, PA 15261
*Graduates must RSVP to the ECE Diploma Ceremony, regardless of whether or not they are attending. We customize diplomas and graduate seating based on who is attending, so a response is crucial for planning. Please use the RSVP formas soon as you finalize your attendance plans.
---
Please note the following important details of the ECE diploma ceremony:
Timing
The ECE diploma ceremony can last up to two hours. The start time can be delayed, depending on the end time of CMU's main ceremony.
Transportation
At the conclusion of the main commencement ceremony, shuttles will run continuously between campus and all off-campus diploma ceremonies (except Heinz Field/Entertainment Technology Center and Rodef Shalom Congregation/Information Networking Institute). All shuttles run the same loop and operate until 6 p.m.
The pick-up location is on Margaret Morrison Street. Upon returning to campus, the drop-off location is near the corner of Forbes and Morewood Avenues.
View a map of the shuttle stops.
*Please note that the off-campus diploma ceremony shuttles are not wheelchair-accessible. More information can be found here.
Food
Please keep in mind that it will be a very long day and most events will be occurring mid-day. We recommend that you eat prior to CMU's main ceremony. Refreshments after the ECE Diploma ceremony will be light and buffet style, and will not replace a full meal.
---
All graduating students must line up in the Petersen Events Center's practice gym before the ceremony.
The directions below will show you how to get to the practice gym.
Getting to the practice gym if you are dropped off in the front of the Petersen Events Center
Getting to the practice gym if you are dropped off in the back of the Petersen Events Center